I hope you'll join me in the Summer Stashbusting Challenge! This summer I made a goal to use up my whole box of cotton yarn – I don't know if I'll make it, but I'm sure going to try! Plus, every pattern I design with this box of yarn this summer is going to be posted as a free pattern here on my website. It is the summer of crochet, my friends! I may even throw in a few other things to go with my giant box o' cotton.
To make things even more fun, I challenged some fellow designers to do some Summer Single Skein Stashbusting – you can expect a free pattern from a different designer each week this summer, and I have no idea what they're going to be. The only criteria I gave was that it had to use just one skein of yarn from their stash. I'm excited to see what they come up with!
To make it even more more fun, I am thinking a giveaway is in order at the end of the summer. Keep track of how many skeins/balls/hanks of yarn you stashbust this summer since I'm thinking an entry for each one used up – winner gets some yarn to help replenish that depleted stash. Ideas are percolating – more info to come on this part!
*Disclosure: Some of the links in this post are affiliate links, which means if you click on them and make a purchase I may, at no additional cost to you, earn a commission. Read full disclosure here.
New Patterns will be added to this post throughout the summer, so make sure you check back regularly!
August Patterns
Cuddly Cat Ears Beanie
We'll kick off August with this Cuddly Cat Ears Beanie. This fluffy wonder comes to you from Marie at Underground Crafter! You can get this free pattern from her website and make this meow-velous hat! I love cats (and so do my kids), so cat ears are definitely a thing in my life.
July Patterns
Solar Circle Coasters
These cute little vintage coasters are brought to you from Veronika at Blue Star Crochet. I am a sucker for lace! These beauties use 4ply cotton yarn (she used King Cole Giza Cotton in Cream or Petal) and a 2.5mm hook, but you can change things up – use t-shirt yarn for a rug, or DK for a placemat – so many options! There is an ad-free PDF version available for purchase from Ravelry, Etsy, or Lovecrafts, or the pattern is also available free online. All the details can be found on her website:
Maisie Market Bag
This cute market bag is brought to you by Pine Tree Crochet! Grab two colors of cotton yarn and you can work this one up in a jiffy. You'll need a size H/5mm hook and about 445 yards of worsted weight yarn (320y main color, 125y contrast color). You can access the pattern free on her blog with the button below, or the pattern is also available for purchase from Ravelry. Enjoy!
Mug Rugs Trio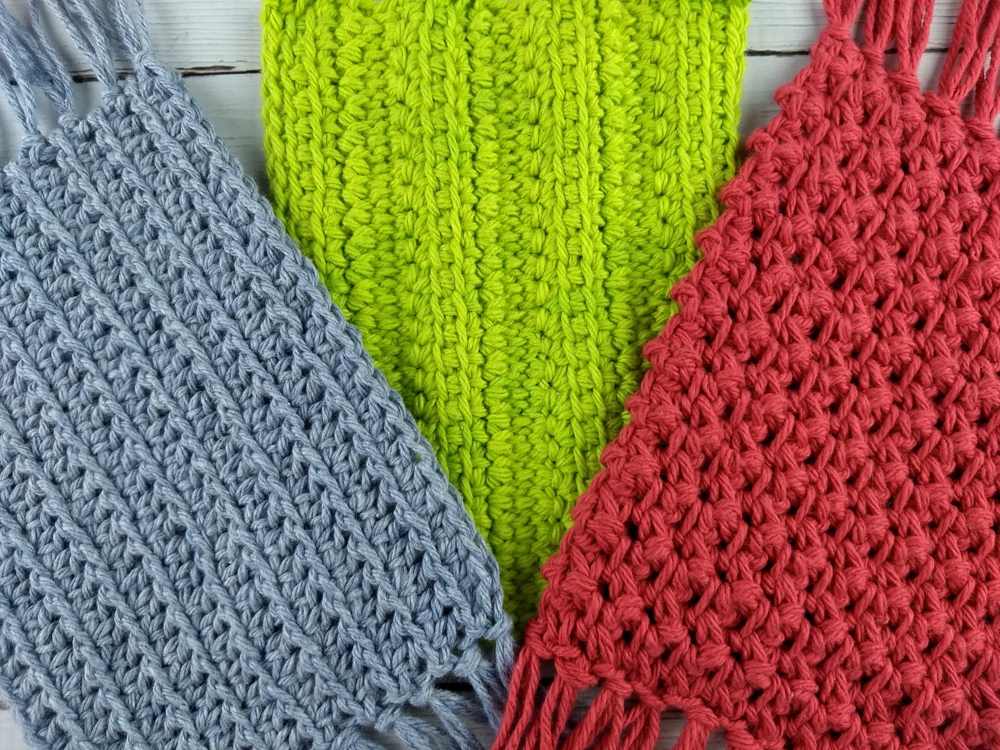 To kick things off, I've posted a new trio of mug rug patterns. Each of these takes less than 30 grams of yarn, so they definitely qualify as single skein. They each also include a video tutorial. You can get the free patterns for these cuties here (or a PDF of all three is available for purchase):
The Sprig Baby Bonnet
This baby bonnet is our first designer contribution, and I just think it is so cute! This one's available for free over at Toys Lab Creations. There is a video tutorial to accompany this pattern as well so it should definitely be doable! The 0-6 month size is free on the website, or you can purchase a PDF version that includes the 0-6 month size and the 6-12 month size (available on Etsy, Ravelry, and Lovecrafts) You'll need less than 100g of light worsted weight yarn and a size I (5.5mm) crochet hook.
Thanks for Joining!
That's it so far for the summer stashbusting challenge, but there's plenty more to come! Stay tuned for all of the updates – I have at least three more patterns in the works already, plus weekly infusions from my fellow designers! You can sign up for my email list or follow me on YouTube, Facebook, or Instagram to make sure you don't miss all the fun new patterns!