The Halfway Slippy Mug Rug is the third and final entry for the Mug Rugs Trio 2 set. You can also check out the Textured Mug Rug and the Linked Triple Crochet Mug Rug to complete the set! Read on for written instructions and video tutorial to walk you through this simple mug rug pattern. Enjoy!
*Disclosure: Some of the links in this post are affiliate links, which means if you click on them and make a purchase I may, at no additional cost to you, earn a commission. Read full disclosure here.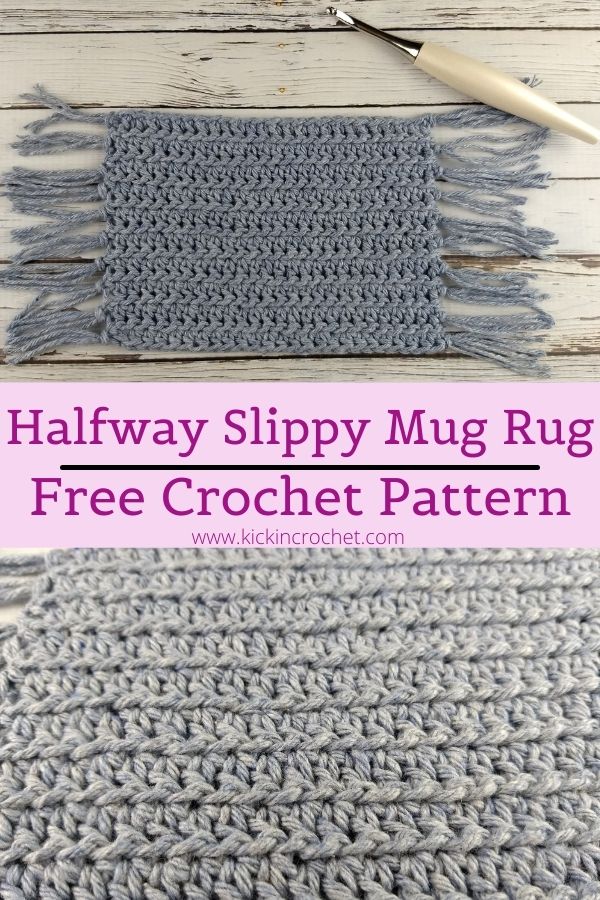 You can get the free pattern here, or you can purchase an ad-free PDF copy of all three patterns in the set from Ravelry or Etsy:
Supplies
Stitch Abbreviations
ch chain
st(s) stitch(es)
hdc half double crochet
Pattern Notes
This pattern is super easy to modify for different sizes. You can add or remove any number of stitches. Keep in mind that the starting chain goes along the long edge of the mug rug.
As written, finished size is approximately 6.75″ x 5″ excluding fringe. Gauge is 15 sts & 17 rows in 4″
Halfway Slippy Mug Rug Video Tutorial
How to Make The Halfway Slippy Mug Rug
ch 26
hdc in 2nd ch from hook and across (25sts)
ch1 (does not count as st), ss blo across (make sure you keep these stitches nice and loose or it will be difficult to work into them on the next row!) (25sts)
ch1 (does not count as st), hdc across, (25sts)
Repeat rows 3-4 until you reach desired width (I did 8 more repeats, for a total of 10 hdc rows)
Finish off, weave in ends.
Attach fringe to the short sides, if desired (see video for textured mug rug)
If you liked this pattern, you may like the Moss Stitch Mug Rug or the Halfway Slippy Hat (both free!)
This pattern and all associated images are copyrighted. If you would like to use this pattern in a roundup blog post, you may use 1 image and link to this blog post. You may not copy the pattern instructions. Thank you for supporting Kickin Crochet!