Here in the Pacific northwest, we get a lot of rain, so when I think of Fall, instead of thinking of pumpkins and crisp fall air, I often think of rain. I designed this square as a tribute to Fall in the PNW. The little V's are like raindrops falling down the square or dripping down a windowpane. I actually love the sound of rain and to watch it fall – it's one of my very favorite things. I hope you enjoy this square and have fun PNW style!
*Disclosure: Some of the links in this post are affiliate links, which means if you click on them and make a purchase I may, at no additional cost to you, earn a commission. Read full disclosure here.
This pattern was designed as part of the Cozy Fall Charity Make-along hosted by Noors Knitts and Knitting with Chopsticks. Be sure to check out their page for lots of free goodies – they've got three free squares per day for the duration of the event – one crochet, one Tunisian crochet, and one knit! You can get all the details on the main event pages:
Supplies
Any worsted weight yarn. I used Comfy Cotton Worsted in Hawk (75% pima cotton, 25% acrylic, 50g/109y)
Size H crochet hook – I love these Odyssey hooks from Furls Crochet!
Yarn/Tapestry Needle for weaving in ends.
Stitch Abbreviations
ch chain
st(s) stitch(es)
fsc foundation single crochet
sc single crochet
spk spike stitch single crochet
Special Stitches
Spike st sc: Enter your hook in the next st 1 row below, pull up a loop, yo and pull through 2 to finish as for a normal sc. You can see a sample of spike st with this video: https://youtu.be/co64pjyJnGg
If you do not want to do foundation stitches to begin, you can start with a regular chain and row of single crochet. If you'd like to give foundation stitches a try, they can really make a difference in the finished look of a project! Here's a video demonstrating the technique:
Pattern Notes
This pattern is very easy to modify for size. You can add or remove stitches in any multiple of 2 st (should have an odd number of stitches total), and you can add or remove any number of rows for length, just make sure you finish with a row of solid sc.
ch1's at the beginning of the row do not count as sts.
How to Make The Rainy Day Square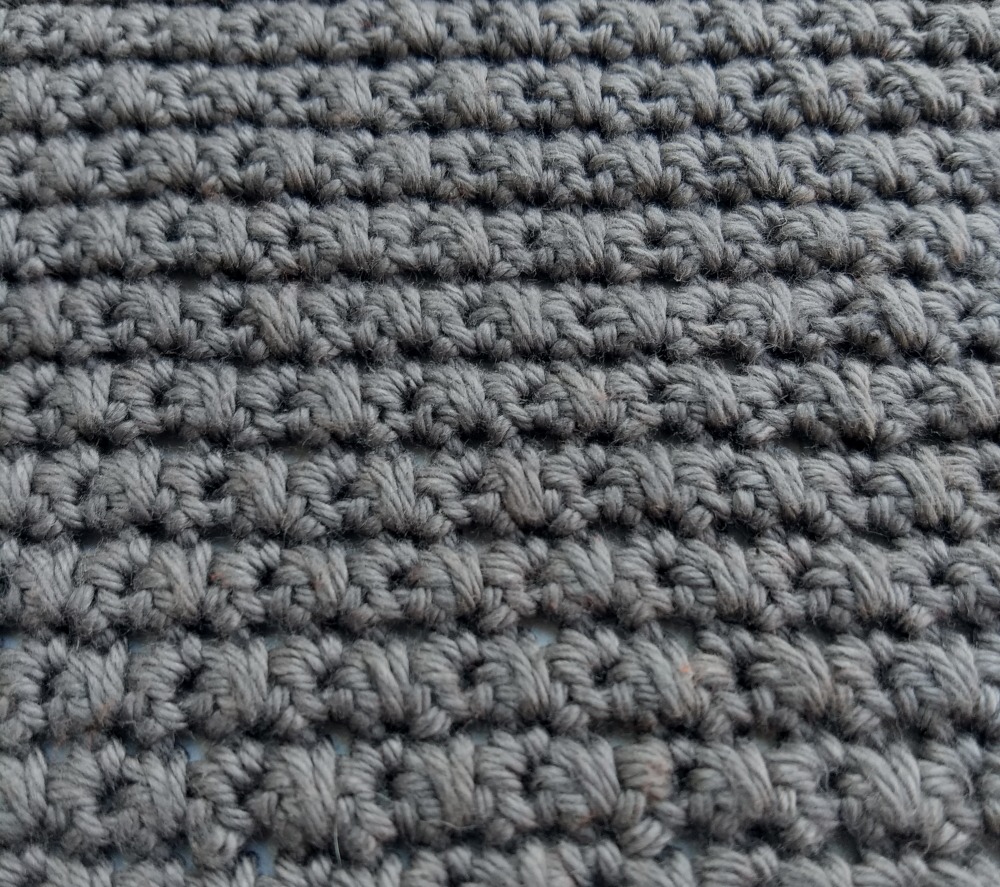 fsc 27
ch1, turn, sc across (27)
ch1, turn, (sc, spk) to last st, sc in last st (27)
ch1, turn, sc across (27)
ch1, turn, sc, (sc, spk) to last 2 sts, sc 2 (27)
ch1, turn, sc across (27)
repeat rows 3-6 8 times more, or until you've reached 8", finish off, weave in ends.
If you like this pattern, you may also like the Seaside Fingerless Gloves and Hat – they also use spike stitch!
This pattern and all associated images are copyrighted. If you would like to use this pattern in a roundup blog post, you may use 1 image and link to this blog post. You may not copy the pattern instructions. Thank you for supporting Kickin Crochet!