To me, Fall is kind of dual-natured… it's a time for cozying up and hunkering down, but it's also an exciting time for new beginnings… the excitement of a new school year, changing classes, moving, new jobs… I designed the Choose Your Path square to reflect the myriad options available. Choose your own path and make your life what you want it to be!
*Disclosure: Some of the links in this post are affiliate links, which means if you click on them and make a purchase I may, at no additional cost to you, earn a commission. Read full disclosure here.
This pattern was designed as part of the Cozy Fall Charity Make-along hosted by Noors Knitts and Knitting with Chopsticks. Be sure to check out their page for lots of free goodies – they've got three free squares per day for the duration of the event – one crochet, one Tunisian crochet, and one knit! You can get all the details on the main event pages:
Supplies
Any worsted weight yarn. I used Comfy Cotton Worsted in Copper (75% pima cotton, 25% acrylic, 50g/109y)
Size H crochet hook – I love these Odyssey hooks from Furls Crochet!
Yarn/Tapestry Needle for weaving in ends.
Stitch Abbreviations
ch chain
st(s) stitch(es)
tss Tunisian simple stitch
tks Tunisian knit stitch
Pattern Notes
This square is worked using Tunisian crochet. All return passes are worked as normal tunisian crochet return passes (ch1, yo and pull through two loops on hook, repeat until only one loop remains on your hook). See below for a video showing how to do a Foundation row and Tunisian simple stitch!
This square is easily modified for size or to adjust for gauge differences. You can increase the width by adding any number of stitches. On rows with tss stitches, add the extra stitches to the tss stitch count (so if the row was tss 10, tks 16… but you added 4 stitches of width, the new row instructions would be tss 14, tks 16).
The last st of each row is worked as usual (through both edge loops).
To adjust for height, add or remove rows in sets of 2 – one of the rows should have a random number of tss stitches and then finish with tks – it really doesn't matter how many sts, just so long as it is not the same as the previous tss row.
Finally, feel free to change the tss stitch counts and row locations to suit your fancy. Most rows have a regular tks row between tss rows, but not always – play with it to see what you like!
Tunisian Foundation + TSS Video
How to Make the Choose Your Path Square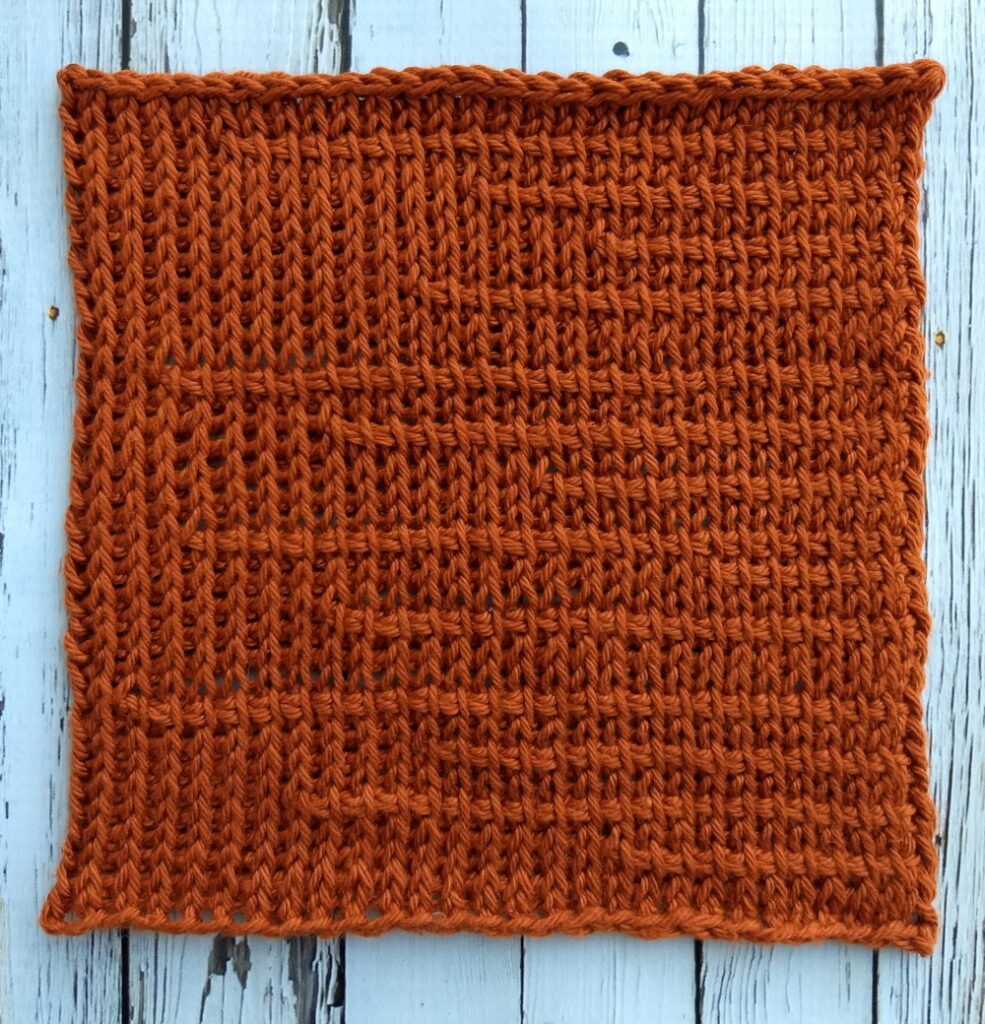 Foundation Row – ch28, pick up a loop in 2nd st from hook and each st across (should have 28 loops on your hook) (28)
tks across
tss 10, tks 17
tks across
tss 20, tks 7
tks across
tss 16, tks 11
tks across
tss 25, tks 2
tks across
tks across
tss 19, tks 8
tks across
tss 7, tks 20
tss 23, tks 4
tks across
tss 12, tks 15
tks across
tss 18, tks 9
tks across
tss 24, tks 3
tks across
tks across
tss 15, tks 12
tks across
tss 10, tks 17
tks across
tss 14, tks 13
tss across
tss 22, tks 5
tss across
Bind off – insert hook in next st as for tks, yo and pull through two loops on hook. Continue across the edge in this manner, tie off, weave in ends.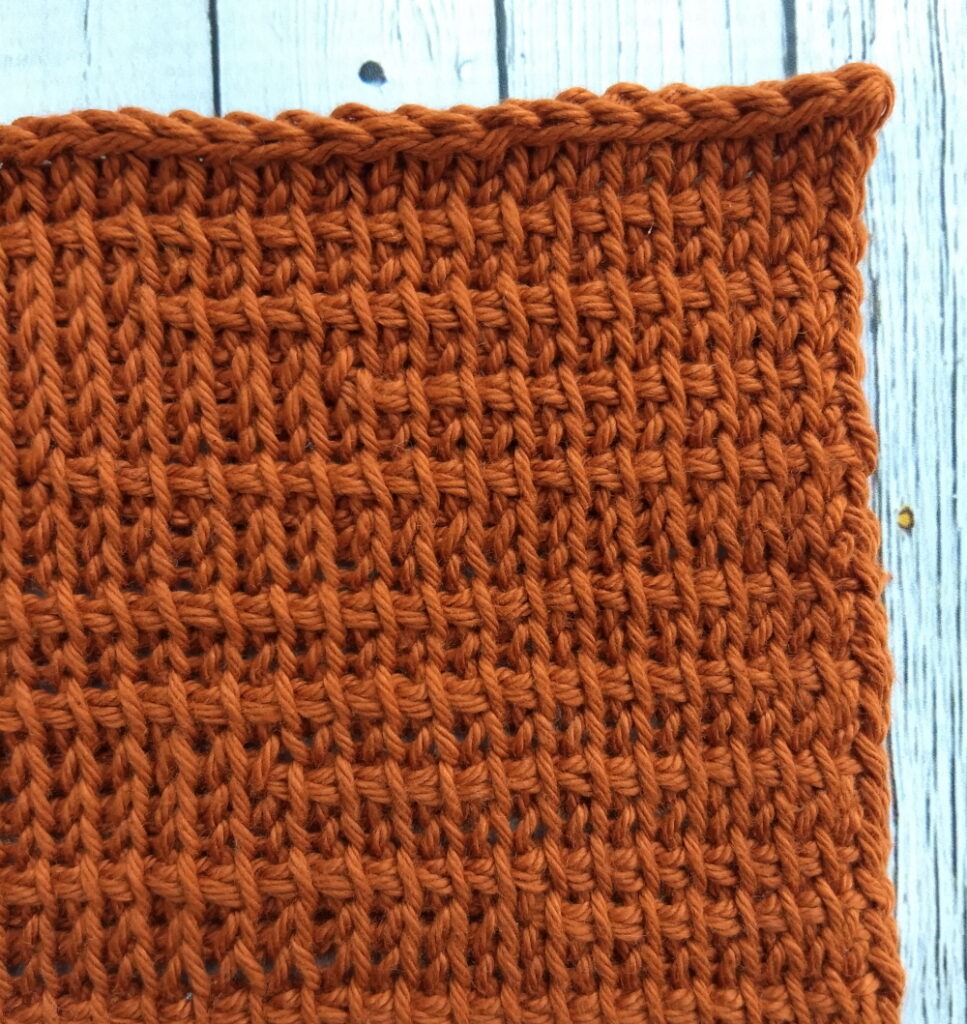 If you like this pattern, you may also like the Rainy Day Square and the Easy Tunisian Hat!
This pattern and all associated images are copyrighted. If you would like to use this pattern in a roundup blog post, you may use 1 image and link to this blog post. You may not copy the pattern instructions. Thank you for supporting Kickin Crochet!