I've collected 28 great Fall crochet patterns that are not pumpkins. (I think y'all know how I feel about crocheted pumpkins – for a refresher, check out 10 unpopular crochet opinions). I've got a little something for everyone, and all but one of them is available for free online, so let's dig in!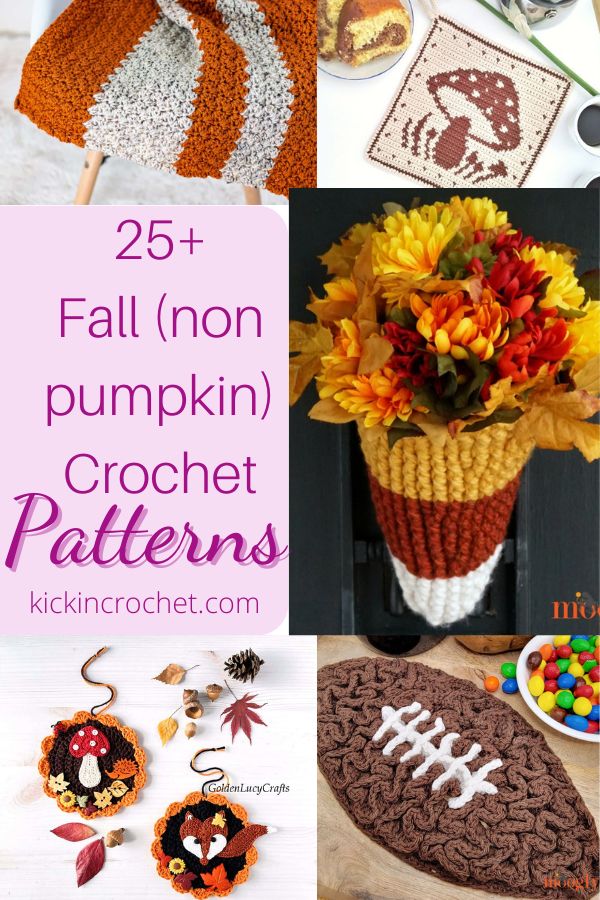 I'm really grateful to all of the designers with featured patterns – all of their designs are included with permission, and we've got some serious talent on display!
Fall Leaves Table Runner
The Fall Leaves Table Runner was designed by Raine from Handmade by Raine. This one uses filet crochet techniques and size 10 crochet thread to create these lovely fall leaves. Free pattern available online!
Caprock Canyon Lap Blanket
I love the texture on this cozy blanket. Y'all know I'm a sucker for patterns that look more complicated than they are, and the Caprock Canyon Lap Blanket definitely falls into that category. You can check it out online from Jessica at Stitching Together!
Apple Soap Cozy/Gift Bag
I personally like this one better as a small gift bag rather than a soap cozy, but you can use it for either purpose. I especially like the cute little leaves on the ends of the string! This Apple Soap Cozy/Gift Bag is free online from Alexandra at Eye Love Knots!
Red Truck Pumpkin Harvest C2C Pillow
Okay, I know I said this was fall patterns that weren't pumpkins, but I think I can handle a few pumpkins in the bed of a cute red truck! This one is made with C2C and is free online from Tonya at Nana's Crafty Home!
Fall Ornaments
Aren't these Fall Ornaments the cutest!? Olena from Golden Lucy Crafts repurposed a couple of her adorable appliques and designed ornament backdrops for them. Instructions for the ornament backs and both appliques are free online!
Vega Sweater
Depending on where you live, this one may be a little too cool for Fall, but it's cute, and it makes a fun transition piece, so I'm throwing it in there! The Vega Sweater is designed by Tasha from Stardust Gold Crochet, and it's available free online in sizes S-XXL.
Clover Fan Infinity Scarf
Another design that's great for those in-between days when you're just not quite sure if you want to put on another layer! The Clover Fan Infinity Scarf was designed by Agat from Made by Gootie and is free online!
Tapestry Mushroom Potholder
Okay, I am in love with little Mushroom Potholder. It's made with tapestry crochet – and free online – AND, better yet, it's one of a whole SET of cute potholders! These were designed by Raffaela at Raffamusa designs, go check them out! I love these as quick, fun Fall crochet patterns to change things up – and you can make others for other seasons too!
Falling Into Autumn Blanket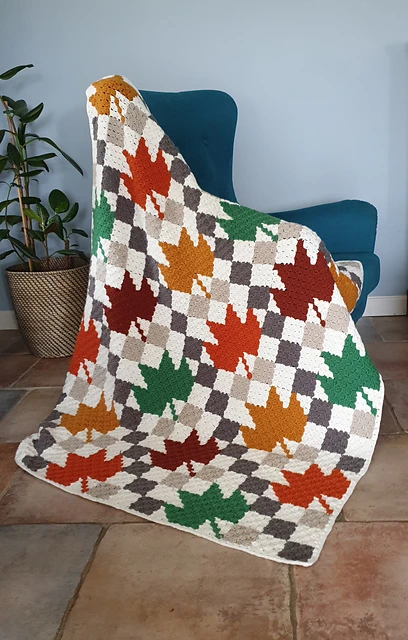 This one is a fun C2C design from Iris van Meer. I love the fun quilt-like leaf motif. It's the only paid pattern included in the list – and it's available for purchase from Ravelry in both Dutch and English languages so you can Fall Into Autumn with the Falling into Autumn Blanket.
Football Wiggle Trivet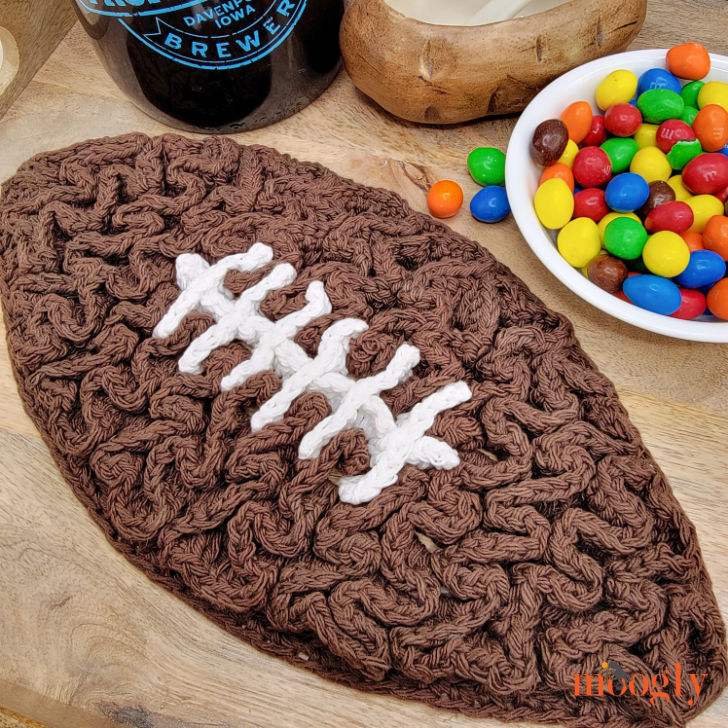 I had no idea wiggle trivets were a thing, but I can now tell you after looking at the Moogly blog – they are a thing. She's got a bunch of cute designs, and this particular one is, obviously, football themed. I'll be the first to admit that I really don't care about football. However, from the yelling sounds that occasionally blast through the walls of our apartment courtesy of our neighbors, I know that footballs a Fall thing! So for you football fans – enjoy this football wiggle trivet and party on!
Fall Leaves Granny Square
The Fall Leaves Granny Square is hosted at Nana's Crafty Home, but was actually a Kristyn Crochets design. I'm glad it found a new home when Kristyn stepped back from blogging, because it is super lovely! This one is free online as well!
Tessa Skirt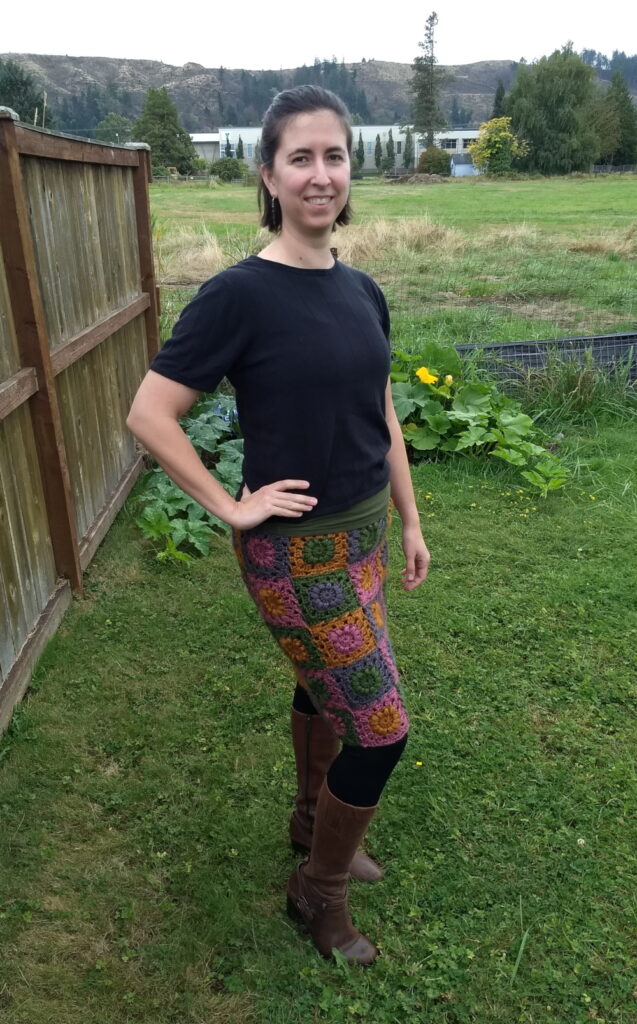 I couldn't resist throwing in a couple of my own designs (just two!). This one is the Tessa Skirt – it's free on the blog, and I just love the fall colors and how warm and thick it is!
Toadstool Sweater Keychain
Teeny tiny little crocheted sweaters! And what is it about mushrooms that make them so adorable? They're really not that cute in real life, so I don't understand it, but I can't dispute the fact that they are, indeed, adorable. The Toadstool Sweater Keychain pattern is from Fay at Stitch by Fay!
Turkey Coaster
Turkey anyone? These Turkey Coasters are designed by Jo from Jo to the World, and you can get the pattern free on her website!
Candy Corn Door Basket
Love or hate candy corn (and I definitely love it), you can't deny it's a Fall treat! This cute door hanging basket mimics candy corn for a fun Fall decoration – free online from Tamara at Moogly!
Pumpkin Striped Fall Blanket
This one just has pumpkin in the name – still safe! I love the stitch used for this Fall throw blanket! The Pumpkin Striped Fall Blanket is free online from Krista at Easy Crochet!
Harvest Crochet Sweater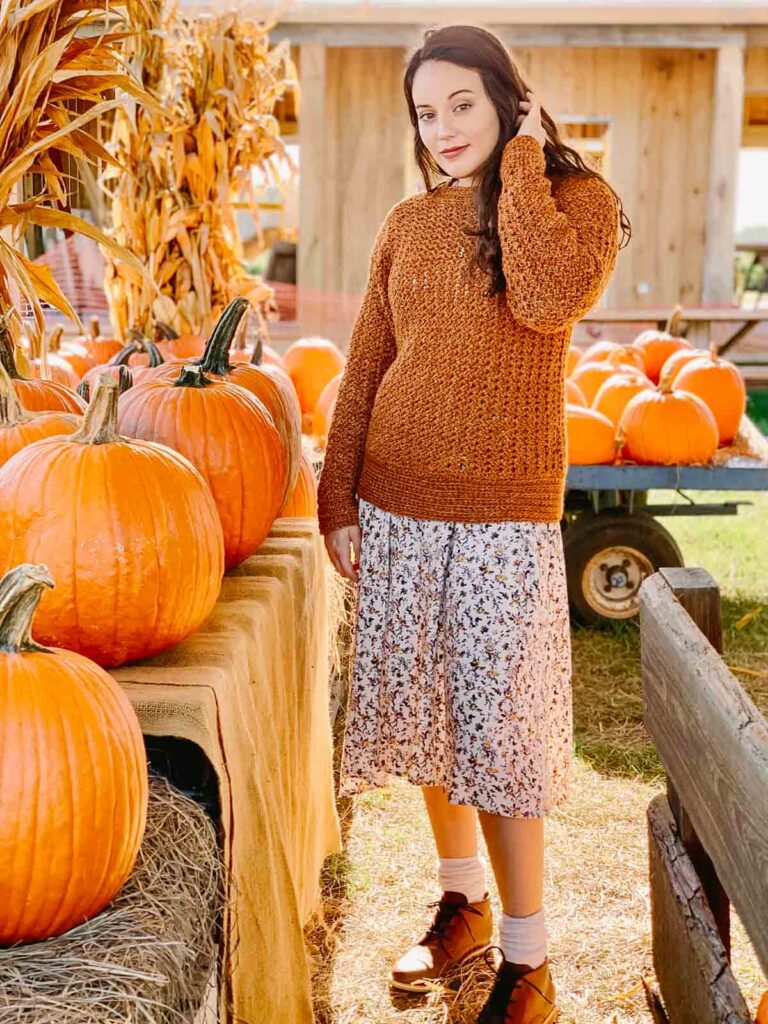 This is such a lovely Fall sweater! I'd be remiss if I didn't include this in a collection of great Fall crochet patterns. Plus it comes with a surprise – the pattern includes a removable cowl so you can change it up depending on your mood! The Harvest Crochet Sweater is free online at the Make and Do Crew website, but it's actually designed by Liz from Mommy Loves Yarn! Love it!
Sunflower Circle Tote
A lot of times I think of sunflowers just as a summer thing, but they actually bloom throughout the summer and well into Autumn! Plus circle bags are always fun. This Sunflower Circle Tote is designed by Heidi from Snappy Tots and available free online!
Maple Leaf Coaster
I really adore these cute little Maple Leaf Tapestry Crochet coaster / mug rugs! These were designed by Raine from Handmade by Raine, and they're available free online, including chart!
Candy Corn Backpack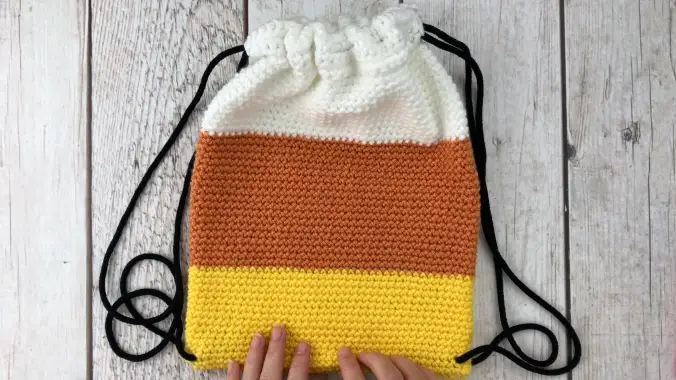 Looking for an alternative to a traditional halloween candy bucket for trick or treating? This cute candy corn tote bag is perfectly sized for little trick or treaters and looks like – well – candy corn! Yum! Free online from Ashley at A Crafty Concept! (I would tell you that this is the last candy corn item on the list – but it would be a lie – there's one more coming!)
Autumn Fade Infinity Scarf
Another fun transition scarf – not too bulky/warm, but a little heavier than a summertime piece – the Autumn Fade Infinity Scarf is free online from Kristi at Mason Jar Yarn Designs!
Harbor Hand Towel
Love the texture, love the colors – they look so squeezable! I bet if I were to start making these I would want at least a half dozen. The Harbor Hand Towel pattern is designed by Jessica at Stitching Together!
Autumn Chill Sweater
Another Kickincrochet design – the Autumn Chill Sweater is available free online thanks to the Furls crochet blog hop – available from women's XS all the way up to men's 5X!
Arabesque Pillow
Another home decor item for the collection – this one may not be strictly a Fall crochet pattern, but it gives off fall-ish vibes to me. Plus… there are pumpkins in the picture, so it must be Fall – right?! I could see making a few in different colors, and that would completely change the seasonal vibe. The lovely Arabesque Pillow is designed by Kirsten of Kirsten Holloway Designs!
Grateful Table Runner
Love this table runner from Tonya at Nana's Crafty Home! I know we all have a lot we can be grateful for. This Grateful Table Runner is made with mini C2C and is free online!
Harvest Throw
Another lovely throw blanket. I love cozy warm throw blankets, so I will always include them in a collection of Fall crochet patterns (or pretty much any other season… because blankets are great). The Harvest Throw is designed by Sarah at Rich Textures Crochet and is free on her website!
Fall Fun Hangings
I promised one more candy corn pattern, and here it is! Plus a scarecrow friend. These cute little wall hangings make for quick, easy Fall décor. The Fall Fun Hangings were designed by Regina from Regina P Designs!
Fall Earrings
We're going to finish off the collection today with these cute little earrings from Olena at Golden Lucy Crafts. I love the little leaves and the tiny little flower that hangs on like a little charm. Adorable! You can get these fall crochet earrings free online!
Like what you see? Save this for later on pinterest and come back to try all these beautiful Fall crochet patterns! A little something for everyone!
All patterns and images were used with the owner's permission! If you liked this collection, you may also like this collection of gloves!