If you watched my video about the problem with mass-produced crochet, then you got a glimpse at the fashion industry's renewed focus on the traditional granny square. The Tessa Skirt crochet pattern features a variation on the granny with a circular puff stitch-centered square. This skirt is written for girls size 2 up to women's size 5X, and it's also super easy to modify for different sizes, The elastic waistband also ensures a good fit – no skirts falling down over here!
*Disclosure: Some of the links in this post are affiliate links, which means if you click on them and make a purchase I may, at no additional cost to you, earn a commission. Read full disclosure here.
As much as I hate weaving in ends, I do love a good crochet square project. These squares just scream Fall to me – not sure why! The Tessa skirt comes out so soft and squishy with the Furls Wander acrylic yarn – plus you can't beat the washability. Where I live, Fall doesn't really evoke apple picking and crisp crunchy leaves. Here in the Seattle area, Fall means – MUD (and rain – and more rain)! So washability is a must! I also love pretty much anything I can wear over leggings. Leggings are a woman's best friend, in my opinion.
This skirt is featured in the Furls Blog Hop, and there are so many other amazing designs available there – for free! My favorites so far (besides this awesome skirt, of course) are week 12's Spring Plaid Poncho by Knotted Nest and week 15's Aura Wall Hanging by The Loophole Fox – so pretty and unique! I really encourage you to check out the other amazing offerings!
Scroll down for the free Tessa skirt pattern, or you can purchase an ad-free PDF copy from Ravelry or Etsy (for a limited time – scroll to the bottom and sign up for the email list for a free PDF code for Ravelry!).
Supplies
Furls Wander Yarn (100g/120y) in Cobblestone, Meadow, Dragonfruit, and Thatch, or any colors of your choice (see chart below for amounts per size).
Size I crochet hook – I love these Odyssey hooks from Furls Crochet!
Yarn/Tapestry Needle for weaving in ends.
In the chart below, the hip measurement is the actual body measurement of the person you're making the skirt for, not the unstretched skirt measurement! Yarn yardage is rounded up to the nearest 50 yards.
For Gauge, each square should measure approximately 4″ unstretched, unblocked.
| | | | | | | |
| --- | --- | --- | --- | --- | --- | --- |
| Size | Hip | Waistband Color yards | Wastband Color # balls | 3 other colors yards per color | 3 other colors # balls per color | Squares per row |
| girls 2 | 22″ | 200 | 2 | 150 | 2 | 5 |
| girls 4-6 | 23.5-25″ | 250 | 3 | 150 | 2 | 6 |
| girls 8-10 | 28-29.5″ | 250 | 3 | 200 | 2 | 7 |
| girls 12-women's XS | 31.5-34″ | 300 | 3 | 200 | 2 | 8 |
| women's S | 36″ | 300 | 3 | 200 | 2 | 9 |
| women's M-L | 40-44″ | 400 | 4 | 250 | 3 | 10 |
| women's XL | 48″ | 400 | 4 | 300 | 3 | 11 |
| women's 2X | 53″ | 450 | 4 | 300 | 3 | 12 |
| women's 3X-4X | 55-57″ | 500 | 5 | 350 | 3 | 13 |
| women's 5X | 62″ | 550 | 5 | 350 | 3 | 14 |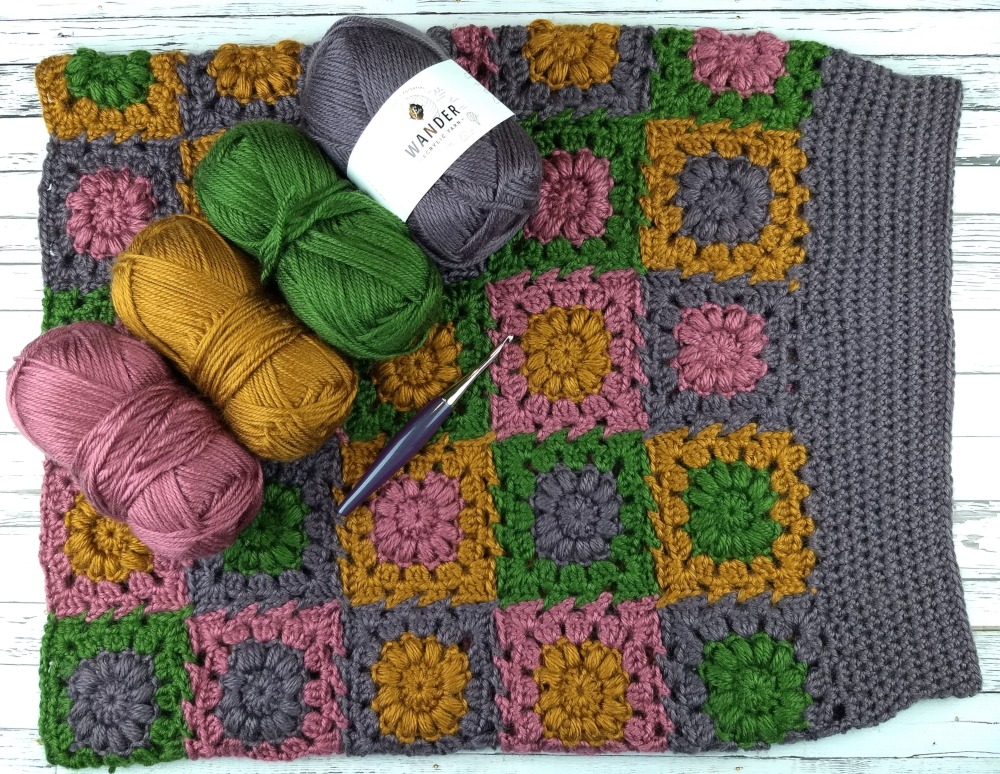 Stitch Abbreviations
ch chain
st(s) stitch(es)
sc single crochet
hdc half double crochet
dc double crochet
puff Puff Stitch
Pattern Notes
This pattern is worked in squares using a join-as-you-go technique. However, you are welcome to use any joining technique you prefer! Scroll down for video tutorials on how to make each square, how to join as you go, and how to add waistband elastic!
Feel free to adjust the number of rows of squares to create different lengths. For a higher waist, you can increase the number of rows of hdc on the waistband before you add the elastic.
An important note: I recommend you try on your skirt once you've completed the first row to make sure it fits over your hips. The squares have some stretch, and the skirt is designed with negative ease over the hips. If you do not have the intended recipient handy for trying on, stretch the first row of squares to make sure it can comfortably stretch to the required hip measurement. Adjust the number of squares if needed. This pattern is very easy to modify for size, and the elastic waistband makes it so you don't have to worry about having the skirt fall down if it ends up slightly loose.
For each square, choose your inner and outer colors based on these guidelines (or feel free to come up with your own color pattern!):
Never put two squares with the same outer color next to each other
Avoid putting more than two squares in a row with the same inner color
Make it random!
Special Stitches
Puff Stitch
Pull up a loop about ½" to top of row height (for stitches after the first, you will not need to
pull the loop on your hoop longer), yo, insert hook in next st and pull up a loop, (yo, insert hook in same st and pull up a loop) twice – you should have 7 loops on your hook – yo and pull through all 7 loops, ch1 to close the puff. (see video below)
Tessa Skirt Video Help
How to Make the Tessa Skirt Square
How to Join As You Go
How to Add Elastic to the Waistband
How to Make The Tessa Skirt
Skirt Body
Note – I like to make a lot of center portions (rounds 1-2) and then work the outer colors later since I used a join as you go technique – it just seems to make it go faster! You can, of course, work the squares in whatever order you'd like.
With inner color, ch4 (counts as dc and center ring – you can choose to use a magic ring and then ch3 for the first dc, if you'd like), work 11 more dc in 1st ch, join. (12 dc)
Puff st around, join, tie off. (12 puffs)
Switch to outer color, join to top of any puff st, ch3 (counts as dc), 2dc in same st, ch1, sk ch (you are skipping the chain that closed the puff st), *3dc in next puff st, ch1, sk ch, repeat from * around, join (twelve 3-dc clusters separated by ch1 spaces).
Ch3, 2dc in same sp, ch2, *(2hdc in next ch1 sp, ch2) twice, (3dc, ch2, 3dc, ch2) in corner, repeat from * around, ending by adding 3 more dc and ch2 in the starting corner sp, finish off.
Repeat 1-4 for additional squares. If you would like to use the join as you go method, every time you come to a ch2 space that needs to be joined to another square, instead of working the ch2 normally, you will ch1, remove your hook from your working loop, insert your hook through the corresponding ch2 space on the other square, grab the loop of your working yarn and pull it through the other square's ch2 space, then ch1 and continue working on your new square. Make sure you don't pull the loop too long, or your squares will have large gaps between them. When joining corners, if there is a square already attached diagonal to your new square, insert your hook in the corner space of the diagonal square rather than the adjacent square. (see video above!) – Keep in mind that you should double check that your first row of squares stretches to hip width before continuing, as different yarns (and the same yarns worked by different crocheters!) have different amounts of stretch.
Continue adding rows until the skirt is your desired length. In my sample, I used 5 rows of squares for a knee-length skirt, size large.
Skirt Waistband
After your squares are joined, it's time to make the waistband! Join your waistband color to the right side of any corner join on the skirt edge. Ch2 (counts as hdc), hdc in same sp, 2hdc in left side of same corner join (so you should have 2hdc in the corner of each color where two squares meet), ch1, #(3hdc in next sp, ch1) three times, 2hdc in each side of corner join, ch1, repeat from * around, join
2. ch2 (counts as hdc), hdc 3, *sk ch1, hdc 11, sk ch1, hdc 4, repeat from * around. You should have worked in every hdc and ch1 space except the ch1 spaces right before and after the corner stitches.
3. ch2, hdc around, join.
4. Repeat step 3 twice more.
5. Adding Elastic – Cut 5 strands of elastic all the same length – slightly less than your waist measure, but long enough to stretch comfortably over your hips. If possible, it is best to tie one strand, try it on, and adjust until it is a comfortable tightness, then cut the remaining strands to match. If you cannot try it on, stretch it and measure to make sure that it does not have to be pulled too tight over the hips, as that will make the skirt less comfortable. When you have cut 5 strands, tie each strand into a circle.
6. Lay one elastic loop along the top of the stitches. Ch2, hdc around, working over the elastic cord, join.
7. Repeat 6 twice more.
8. Lay your last elastic loop along the top of the stitches. Ch1, sc around, working over the elastic cord, join.
9. Finish off, weave in ends (so many ends!)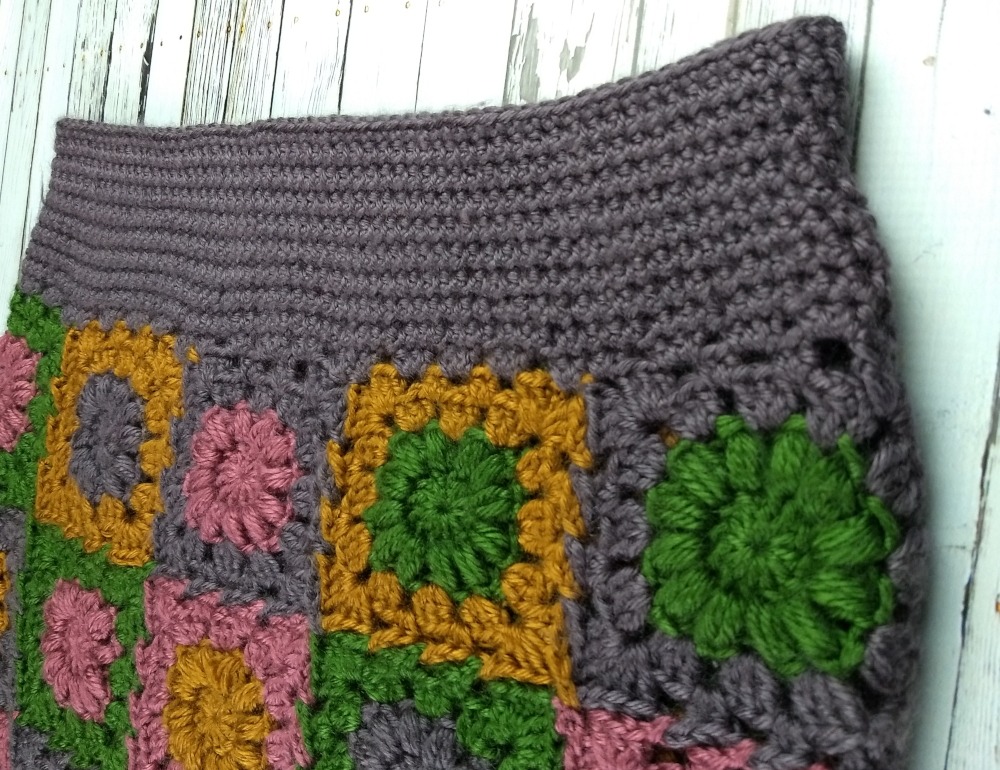 If you read this far, you're in luck! As a limited time offer, if you sign up for my email list, I will send you a Ravelry code for a free PDF copy of this pattern!
This pattern and all associated images are copyrighted. If you would like to use this pattern in a roundup blog post, you may use 1 image and link to this blog post. You may not copy the pattern instructions. Thank you for supporting Kickin Crochet!