I'm excited to share with you the Eyelet Mug Rug Crochet Pattern, which you can get here for FREE! This is the second pattern in the Mug Rug Trio. It features eyelet stitch and comes with a YouTube tutorial to show you how to make it step by step. These cuties make great last minute gifts! If you missed the first pattern, you can find the Moss Stitch Mug Rug pattern here!
*Disclosure: Some of the links in this post are affiliate links, which means if you click on them and make a purchase I may, at no additional cost to you, earn a commission. Read full disclosure here.
You can now purchase the Mug Rugs Trio Set on Ravelry and Etsy as an ad-free PDF!
Supplies
Stitch Abbreviations
ch chain
sc single crochet
Pattern Notes
Just like the Moss Stitch Mug Rug pattern, this one is very straightforward, with a simple repeat. For help, see the YouTube video tutorial below!
Eyelet Mug Rug YouTube Video Tutorial
How to Make the Eyelet Mug Rug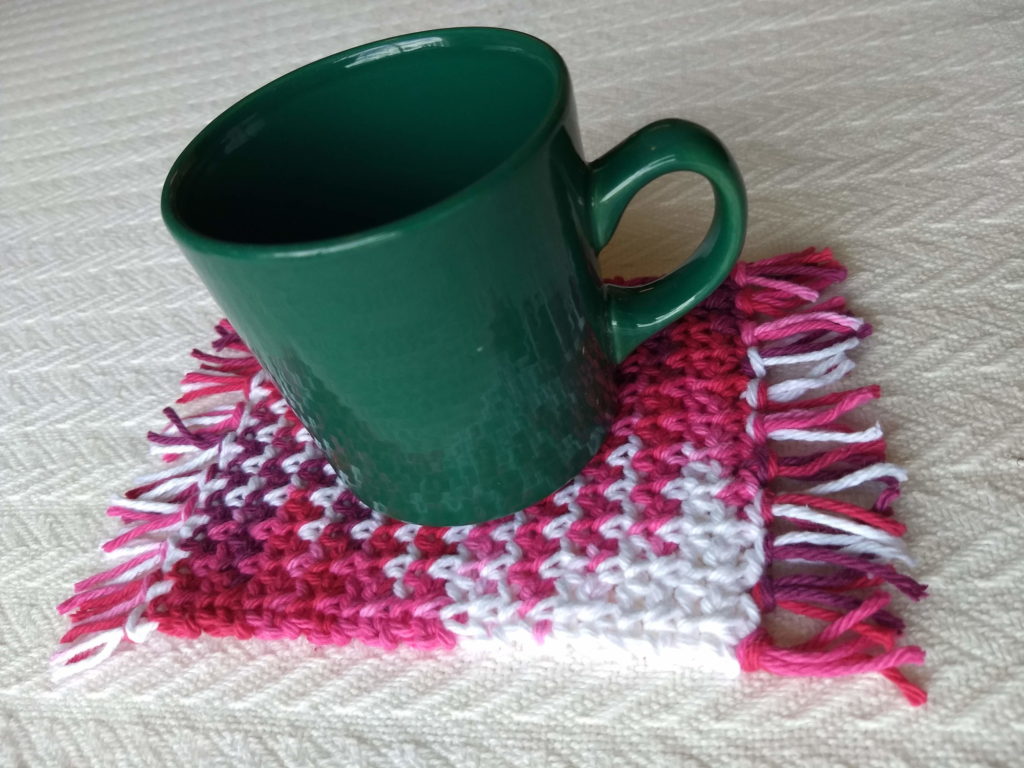 ch 22
sc in 2nd ch from hook, *ch1, sk next st, sc, repeat from * across
ch 1 (doesn't count as first stitch), turn, sc in same st, *ch 1, sc in previous sc, repeat from * across
repeat row three 20 more times or until mug rug reaches desired length (without tassels)
finish off, weave in ends.
attach fringe to each sc on both sides (11 per side, for tutorial, see video above)
In the picture below, one of the mug rugs is made with the Moss Stitch Mug Rug pattern, and the other is made with the Eyelet Mug Rug pattern. Can you tell the difference? Which one do you like better?!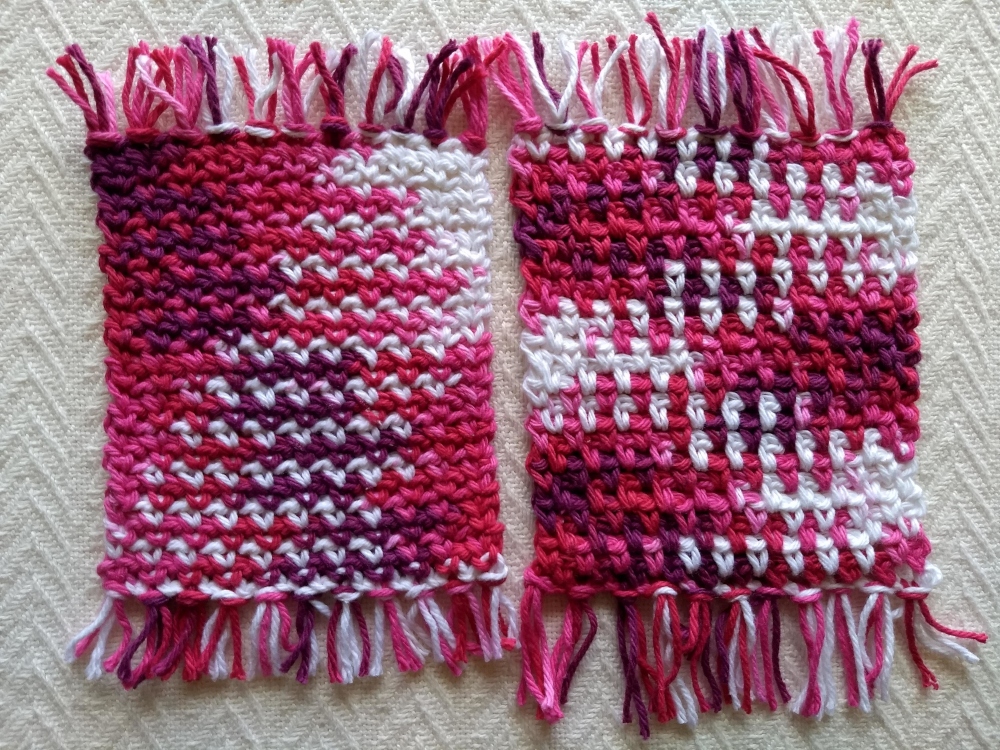 I hope you enjoyed this pattern! Stay tuned for the third and final pattern in the Mug Rugs Trio coming next month! You can also purchase a PDF copy of the Mug Rugs Trio – see below! Looking for more free patterns? Check out the Free Pattern section!
This pattern and the associated images are copyrighted, however, I'm happy to have this pattern included in roundup posts of crochet patterns. You may use one image from this post and a link back to this post, but the text of the pattern may not be copied. Thank you so much for your support!