Ever since I made the Tricolor Infinity Scarf I have wanted to make a simpler version using Tunisian crochet – hence the Tricolor Tunisian Cowl! I'm so excited about this pattern, because as much as I love the tricolor scarf, the split stitch is one of the most difficult crochet things I've ever done. So when I learned to do Tunisian crochet in the round I immediately thought of making a Tunisian version of the tricolor. The only question is why did it take me so long?!
*Disclosure: Some of the links in this post are affiliate links, which means if you click on them and make a purchase I may, at no additional cost to you, earn a commission. Read full disclosure here.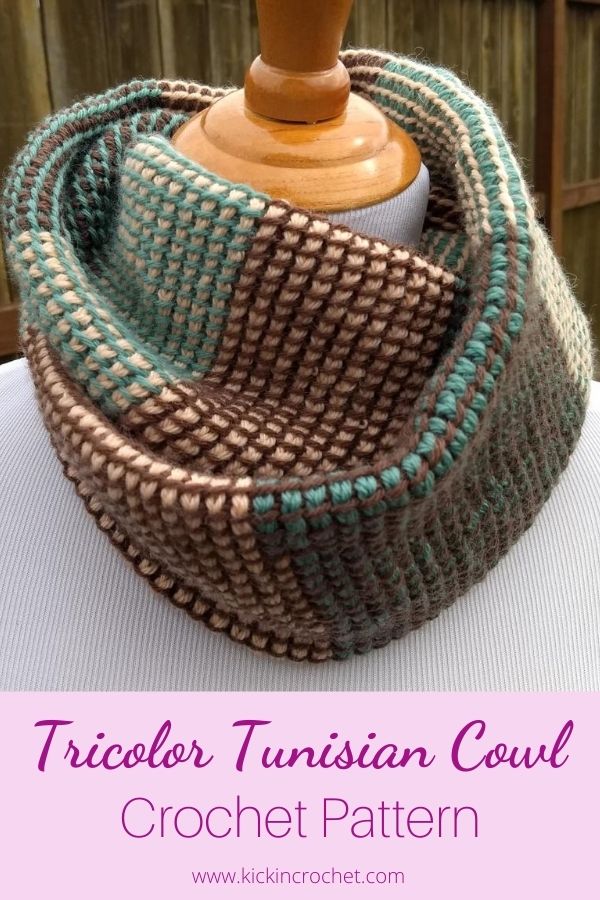 About the Tricolor Tunisian Cowl Pattern
This fun cowl uses three different yarn colors to create a deceptively easy colorwork scarf. It's great for men and women alike, with no complicated stitch patterns to worry about. You can grab your yarn and escape into zen-like crochet bliss! This pattern is currently available from LoveCrafts, Etsy, and Ravelry!
Materials
Sizing
Finished size is approximately 48″ long and 4.5″ wide.
Gauge is 17sts and 15 rows in 4″.
Tunisian Crochet in the Round YouTube Tutorial
If you're new to Tunisian crochet in the round, I've made a quick YouTube tutorial to show you how to do the technique. It even uses the same stitch I used in the cowl pattern, tunisian simple stitch!
I hope you love this new design as much as I do! You can purchase the Tricolor Tunisian Cowl on LoveCrafts, Etsy, or Ravelry!