The super star notions bag was one of my favorite designs, and it got me on a serious star stitch kick that led to the Stella pattern set. This was originally published on the crochet foundry website (and it is still available there), but I'm happy to also be able to offer it to you via Ravelry and Etsy! Read on to learn about the pattern, materials, and to see the start stitch video tutorial!
*Disclosure: Some of the links in this post are affiliate links, which means if you click on them and make a purchase I may, at no additional cost to you, earn a commission. Read full disclosure here.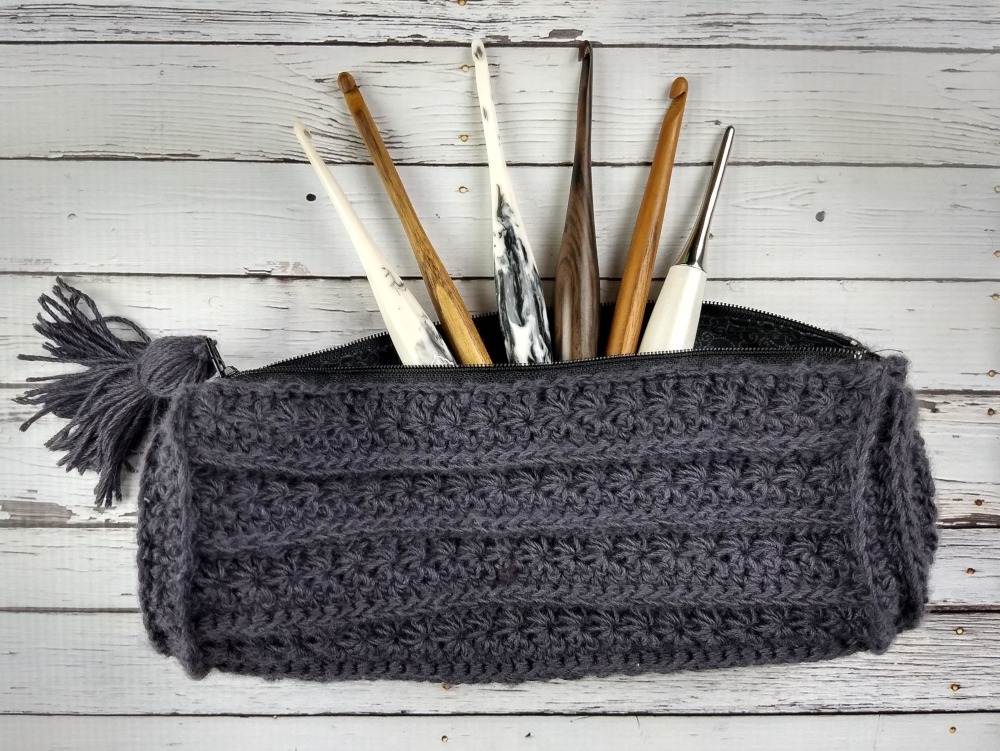 About the Super Star Notions Bag
This bag uses just a single skein of Whims Merino DK yarn. This yarn has beautiful stitch definition that really makes the stars pop, but you can use any DK weight yarn that you like! I love the star stitch and the ridged stripes separating the star stitch sections. The end circles also make great little coasters! The bag is worked in three pieces and then seamed.
Sign up for my email list for the latest updates and exclusive deals. New releases regularly get discount codes exclusive to email subscribers, so don't miss out!
Materials
Sizing
Finished bag measures approximately 9.5″ x 4″, plenty of room for lots of notions and goodies! Everything in the picture below, including the little notebook, can fit easily into this bag!
Star Stitch Video Tutorial
New to the star stitch? Check out the video tutorial or written instructions for how to crochet star stitch.