This bold broomstick lace chunky neckwarmer is a fun beginner project if you'd like to try out broomstick lace! The super bulky yarn and offset broomstick technique make this project much more dense than traditional broomstick lace, but it also makes it much more quick to work up! you'll only need six rows of lace to get a full neckwarmer using this pattern! Read on for the free crochet pattern and a video tutorial showing how to crochet broomstick lace!
*Disclosure: Some of the links in this post are affiliate links, which means if you click on them and make a purchase I may, at no additional cost to you, earn a commission. Read full disclosure here.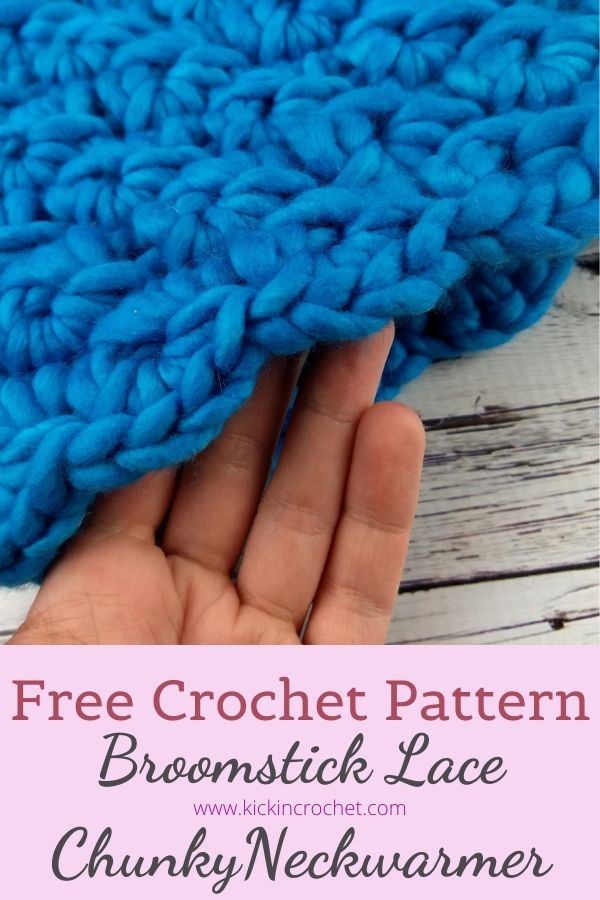 This pattern is relatively straightforward, and I've included a video showing you how to do broomstick lace, so you can totally make this! The pattern is available free here on this page, or you can purchase an ad-free printable PDF from Ravelry or Etsy.
Supplies
1 skein Malabrigo Rasta (150g/90y) or similar Super Bulky yarn. I used color Cian.
Stitch Abbreviations
ch chain
st(s) stitch(es)
sc single crochet
fsc foundation single crochet
Size/Gauge
Finished size is approximately 7″ tall and 10″ wide (when sewn to make neckwarmer and then laid flat).
Gauge is 4 rows and 10 sts in 4″
Pattern Notes
If you prefer a wider cowl, increase the starting stitch count in multiples of 4 stitches. Still using a single skein of Rasta, you could increase the starting stitch count by 8 stitches and work one fewer rows. if you prefer.
If you are new to broomstick lace, here is an instructional video showing you how to do this fun technique!
If you prefer, you may start with a standard chain rather than a foundation single crochet.
You may make this neckwarmer with any weight yarn and an appropriate hook. You will just have to adjust your starting chain length and the number of rows you make! Feel free to also experiment with how many loops you use per "bunch" or other aspects of broomstick lace.
This neckwarmer uses the offset broomstick lace technique. If you'd prefer to have the lace "stacked", just repeat row 2 until you reach your desired height. (See Video for comparison)
Broomstick Lace Video Tutorial
How to Make the Chunky Broomstick Lace Neckwarmer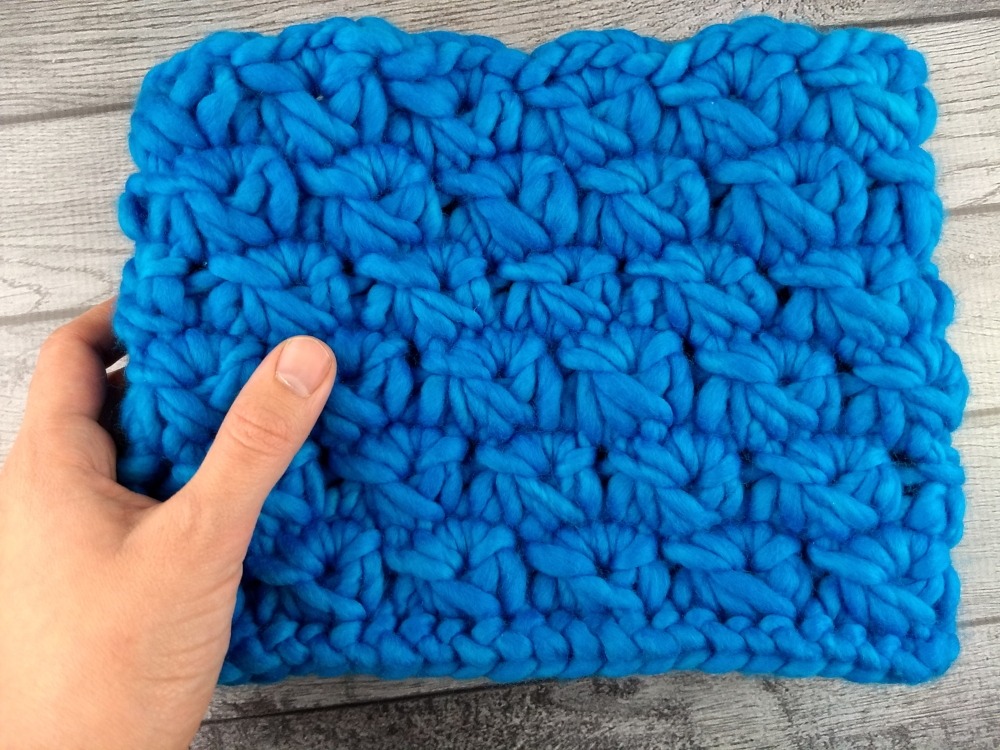 1. fsc 48
2a. Without turning, starting from the left side of your work, pull up a loop and place it onto your knitting needle. Insert your hook in the next st, pull up a loop, and place it over the knitting needle. Repeat this until you have pulled up a loop in each stitch of your foundation row (48 loops on knitting needle).
2b. Slide 4 loops off the knitting needle and onto your crochet hook. Being careful not to pull your working yarn too tight (as this will shrink your first broomstick lace loop), yo and pull through the four loops, ch1 (counts as first sc), work three more sc through the four loops. Continue in this manner, pulling four loops at a time off the knitting needle and working four sc in each set of loops.
3a. Repeat 2a
3b. Work as for row 2b except for the first and last groups of stitches. To start, pull just the first two loops off your knitting needle, and work 2 sc in the loops. Continue as for row 3, working 4 sc in each group of 4 loops. At the end of the row, you should have just two loops remaining. Work 2 sc in these last 2 loops.
4-7. Repeat rows 2-3 twice more. Finish off.
8. Sew neckwarmer into tube by seaming short sides together. Weave in ends.
If you like this design, you may also like the Peachy Keen Tee or the Berry Lane Beanie.
This pattern and all associated images are copyrighted. If you would like to use this pattern in a roundup blog post, you may use 1 image and link to this blog post. You may not copy the pattern instructions. Thank you for supporting Kickin Crochet!