Fall is here, and the Berry Lane Beanie is ready to help fight the chill! This beanie works up quickly with bulky weight yarn. The pattern calls for bulky held double with mohair, but you can definitely omit the mohair if it's not your jam! Sized for toddler through large adult – make one, make a bunch!
*Disclosure: Some of the links in this post are affiliate links, which means if you click on them and make a purchase I may, at no additional cost to you, earn a commission. Read full disclosure here.
About the Berry Lane Beanie
I was on the hunt for a quick, textured stitch for a hat when I remembered the 'tilted pairs' stitch pattern. This stitch is so easy, but it creates beautiful rich texture and looks great with heavier weight yarn. I loved the stitch so much I also used it in a yet-to-be-released cardigan pattern (stay tuned for that one!). This hat is a great beginner friendly pattern, since you only need to know a few stitches – back loop only slip stitch, single crochet, double crochet, and chains. That's it!
Materials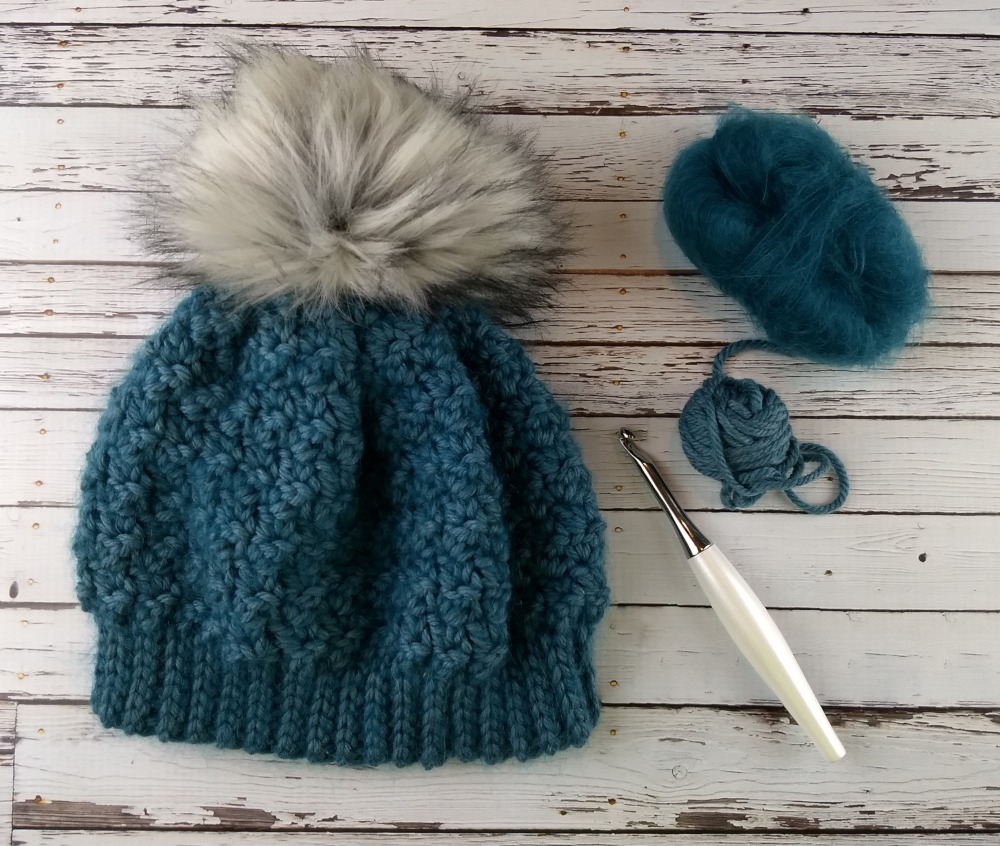 Sizing
This hat is designed in four sizes:
Adult Large: 23″
Adult Small: 21″
Child: 19″
Toddler (1-2yr): 17″
Tilted Pairs Video Tutorial
Learn how to make the tilted pairs stitch pattern used in this hat – the video shows working in turned rows, but working in joined rows in the round is very similar!
Slip Stitch Ribbing Video Tutorial
Slip stitch ribbing is wonderfully soft and stretchy! Learn how to make the hat ribbing here:
Battle the Breeze and Enjoy Fall!
I can't wait to see all of your wonderful hats! Be sure to tag me on instagram @kickin_crochet or on facebook (facebook.com/kickincrochet) to show them off! Don't let a little autumn breeze keep you down – cozy up, and get out to enjoy those crunchy fall leaves and the crisp autumn air!