Tunisian crochet, also known as afghan crochet, is a fun crochet variation that falls somewhere between crochet and knitting on the fiber arts spectrum. Whereas in regular crochet you work one stitch at a time across a row then turn the work around (or continue in a round, depending on the project), for Tunisian crochet you pick up stitches all the way across a row then work your way back across finishing the stitches without ever turning your work. This tutorial shows you how to start a Tunisian Crochet project and how to do your first Tunisian stitch – the Tunisian Simple Stitch, or TSS.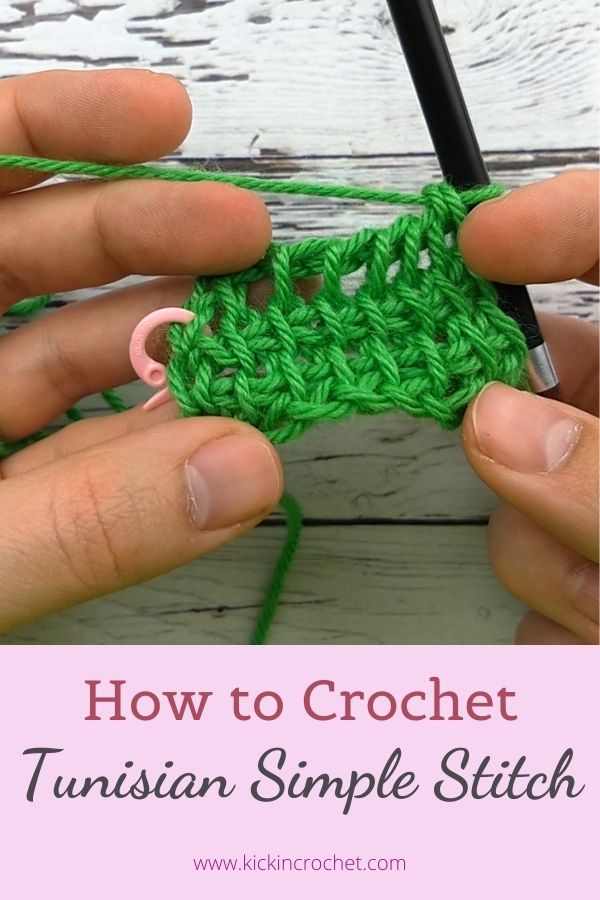 You might be thinking – why do I need to learn another way to crochet? And the answer is that you don't need to – but you might want to! Tunisian crochet (usually) gives a much denser fabric than regular crochet. It also has some stitches that closely imitate the look of knitting. So if you love the look of knitting but don't enjoy the act of knitting, Tunisian crochet might be right for you! I also really like Tunisian for certain colorwork projects because the stitches stack on top of each other so nicely. Plus, it's kinda fun.
Read on to find out what kind of supplies you'll need, then scroll down to see photo and video tutorials for the foundation row and Tunisian Simple Stitch. Enjoy!
Supplies
If you are doing a very small project, you can just use a regular crochet hook (not an ergonomic one – it must have a straight shaft). I recommend just starting with this to try out Tunisian before investing in more tools! Otherwise, you will need to pick up a special hook for Tunisian.
There are three main types of Tunisian crochet hooks – long straight hooks (also known as afghan hooks) that can hold a lot of stitches at a time and have a stopper at the end so stitches don't slide off, double ended crochet hooks (for working Tunisian crochet in the round), and cabled crochet hooks (for working large Tunisian crochet projects). When you purchase a hook, you'll typically want to go about 2 sizes larger than the yarn's recommended hook size. So for a worsted weight yarn I may use a size J hook. Here are a few of my favorite tools for Tunisian crochet:
Straight hooks aren't my favorite, but when I do use them, I like Furls Tunisian crochet hooks. They come in a variety of beautiful wood finishes and have decently pointy tips to make it easier to get your hook in the right place.
My favorite cabled Tunisian hooks are the Ginger Tunisian Crochet Hooks from Knitter's Pride. They have nice pointy tips (again, this makes Tunisian so much easier). They can take a little getting used to since the head of the hook is a little longer than for most hooks. Also, they are a little expensive, but you can buy them individually instead of getting the whole set! These are available from several different retailers. I found mine at my local yarn shop. They're also at WEBS, Jimmy Beans Wool, and sometimes Amazon.
If you're going for cabled hooks, I highly highly recommend also picking up a swivel cord. These things are total game changers! They dramatically reduced my arm and wrist tension when I started using them, and you can pick one up for around $5 – definitely worth it! They are also made by Knitter's Pride, so they work with the Ginger hooks linked above, but I found that they also work fine with my interchangeable hooks from Knitpicks (which is a much less expensive set, if you're wanting a full set but don't want to splurge on the Ginger hooks. They're available here from Knitpicks).
Double ended Tunisian crochet hooks are available from a variety of manufacturers. I'll be honest – when I first picked some up, I found a ridiculously cheap pack on Amazon. It was like $10 for 20 hooks or something. There's a reason they were so cheap! I still use them, but they tend to snag a little, and the shaft of the hook is often bent. So you totally can go that route to give it a try. If you want to pick up a decent hook, I like the double-ended hooks from Clover. They're nothing fancy, but they work well, and I so far have yet to be disappointed by a Clover hook.
Yarn/Tapestry Needle for weaving in ends.
How to Make Tunisian Crochet Foundation Row
Most Tunisian Crochet projects use the same foundation row no matter what stitch you'll end up using later. Begin by making a regular chain however long you want or however long your pattern calls for. Then, skipping the stitch closest to your hook (the starting loop on your hook counts as the loop for the first stitch), insert your hook into the back bar of the next stitch and pull up a loop. Continue to pull up loops in the back bar of each stitch along the entire chain. You should have one loop on your hook for each chain stitch you started with.
Next, yo and pull through just one loop on your hook (ch1). Now, yo and pull through two loops on your hook. Continue to yo and pull through two loops until you get back to the beginning of the row. Congratulations! You just worked a foundation row in Tunisian Crochet!
Tunisian Simple Stitch
To work a tunisian simple stitch, which is abbreviated TSS, again, skip the first stitch, then insert your hook from right to left through the front vertical bar of the next stitch. Pull up a loop. Continue to do this all the way across the row. To finish, work the same close you did for the foundation row: ch1, then yo and pull through 2 loops until you get back to the start of the row! That's it!
Tunisian Simple Stitch Video Tutorial
I recorded a quick video to show you TSS and a foundation row in action!
Tunisian Tips
Like any craft, Tunisian crochet has its own quirks and challenges. Here are my tips for two common Tunisian crochet problems.
1 – Losing stitches. The most challenging part of Tunisian for me when I first learned was making sure I kept the right stitch count. I had a tendency to drop or add stitches at the left side of each row – I solved this problem by always adding a stitch marker when I start the return pass. I show this in the video tutorial as well. After you do the ch1, add a stitch marker to the two top loops of the chain. This will be the last stitch you work into on the next forward pass!
2 – Curling. Tunisian crochet has a well-earned reputation for curling. Because the fabric is more dense on the back than the front, it does have a tendency to roll up. This is pretty unavoidable, but there are a few things you can do to help alleviate the problem. First, always use a larger hook size than the yarn calls for. Second, try to keep your stitches nice and loose. Third, Add rows of Tunisian Reverse Stitch or Tunisian Purl Stitch at the edges to help fight curl. Fourth and finally, block your projects to help tame the curl!
**Updated March 2022, originally published October 2014**