This hooded scarf crochet pattern uses one of my favorite yarns – City Tweed from WeCrochet. I picked up a few balls of this pink color at last year's Big Yarn Sale super cheap, but just hadn't found the perfect project for it. Thankfully this fun scarf popped into my head! My daughter tells me it needed to be blue, and I'll probably never get her to try the pink one again, but it looks so good with her blonde hair! Sigh. Optional pockets and fringe finish it off!
*Disclosure: Some of the links in this post are affiliate links, which means if you click on them and make a purchase I may, at no additional cost to you, earn a commission. Read full disclosure here.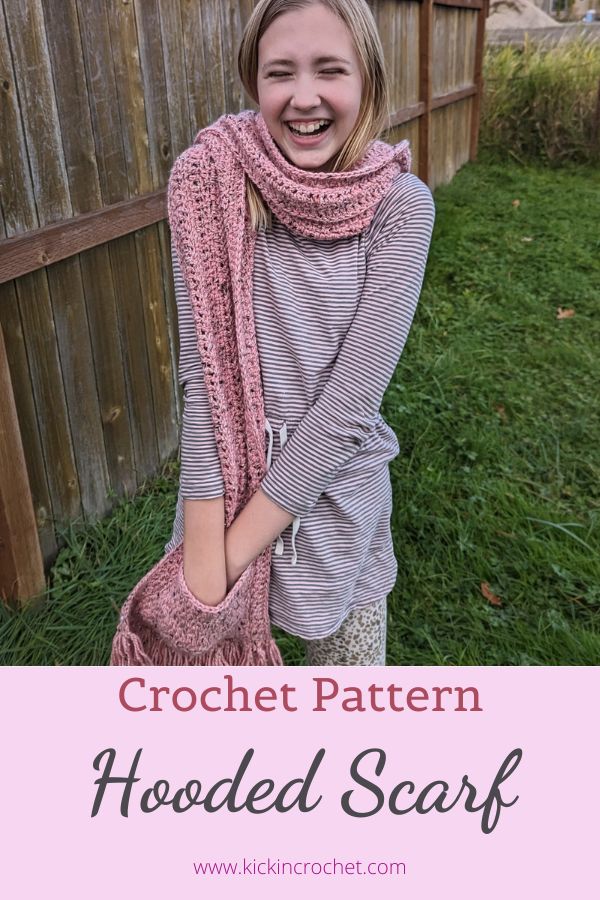 About the Pattern
One of my favorite things about this hooded scarf is the hood construction. I never like it when hoods are thrown on as a complete afterthought. This one is incorporated into the scarf design. You start by making a standard scarf, then you add part of the hood, then you finish the scarf and the hood together! I've found that this gives it a nicer fit and great continuity. The final rows serve as a sort of edging for the hood as well so it has a nice finish. The pattern is available for purchase from Ravelry or Etsy (and don't forget to sign up for the email list where I pass along exclusive discounts for new releases!). Read on for materials and more information!
Materials
Sizing
Gauge: 12 rows and 12 stitches in 4″ worked in pattern. The finished scarf, as written, measures approximately 60″ long by 8.5″ wide. Basic instructions for modifying length and hood depth are included (but require some minor calculations, depending on how much you would like to adjust)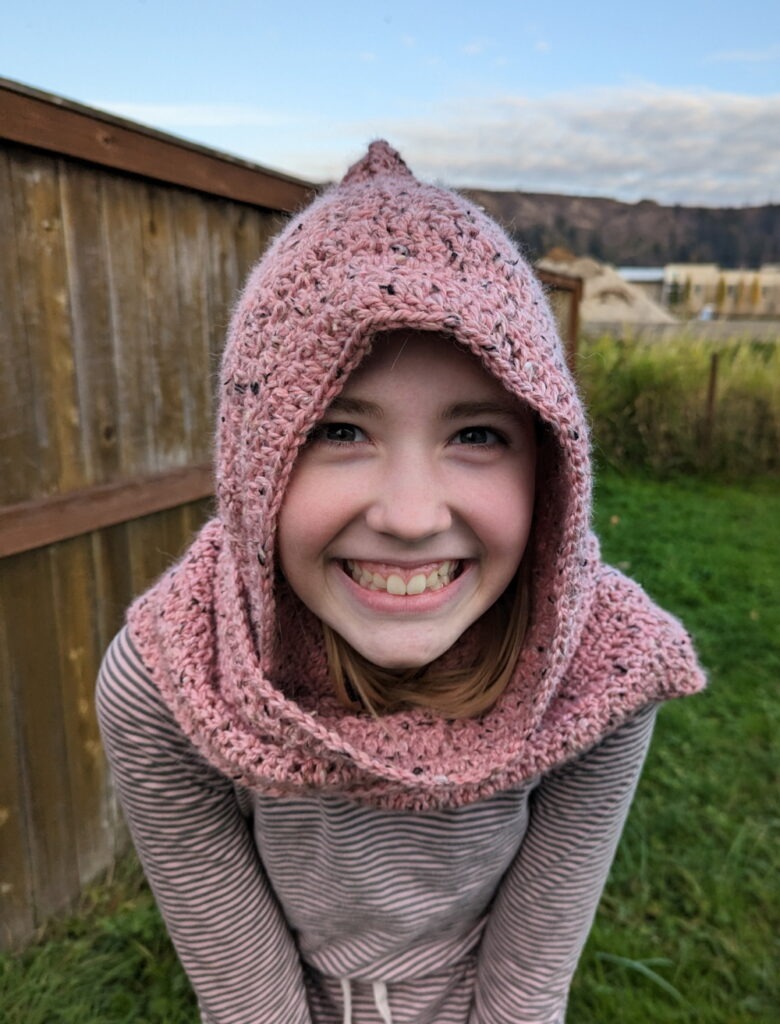 Foundation Stitches
I chose to begin this pattern with foundation stitches rather than a starting chain. If you're new to foundation stitches, I really encourage you to give them a try! It creates a much nicer starting edge, and I've found that I'm much less likely to have tension issues as compared to a starting chain. They're not that hard, I promise!
I hope you keep warm this year, and have fun while you're at it! If you end up making this pattern, tag me on instagram and/or facebook (@kickin_crochet on insta, @kickincrochet on facebook). I love to see and share finished projects!