These home decor crochet patterns are gorgeous and sure to liven up your living spaces. Plus, they make great gifts for christmas or birthdays – no need to worry about getting the correct size! This collection includes both free and paid options with pillows, wall hangings, baskets, blankets, and more! I hope you enjoy!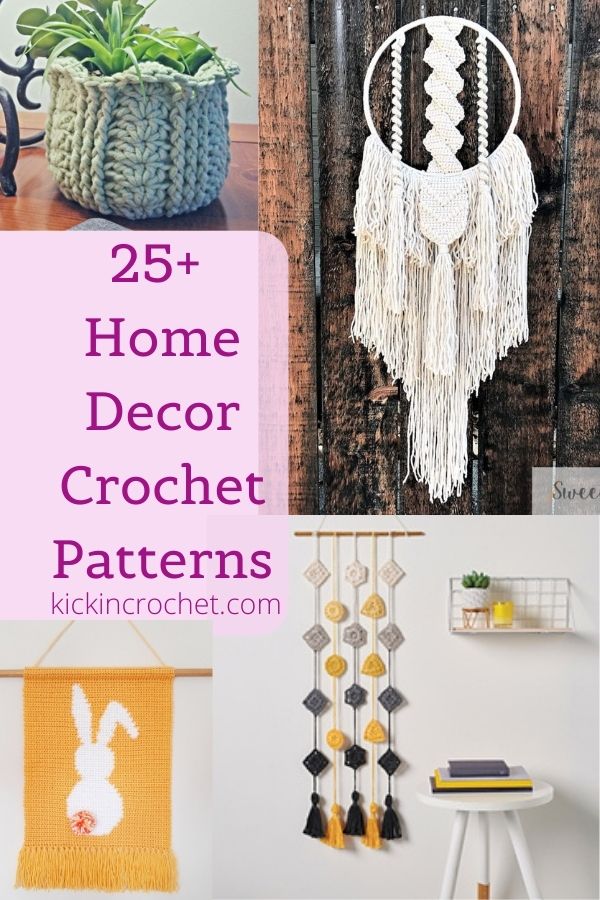 Crochet Home Decor Wall Hangings
We'll kick off this collection with crochet wall hangings!
This geometric wall hanging pattern by Veronika Cromwell from Blue Star Crochet gives me all the fun boho vibes. I love the texture on the geometric shapes, and she used one of my favorite yarns! This pattern is available for purchase from Ravelry. I think I've got to wait until my kids are a little older, because I just know they would be playing with those tassels alllll the time! Super cute!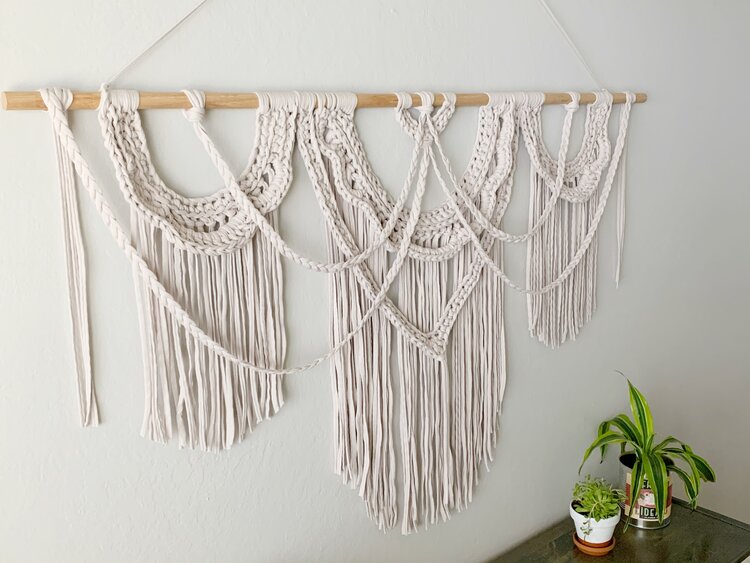 I think this is actually one of my favorite crochet things I've seen this year. I actually found it on pinterest long before Meghan agreed to let me put it in this blog post! I love the boho vibes and the slightly organized chaos feel. You can get this free pattern here!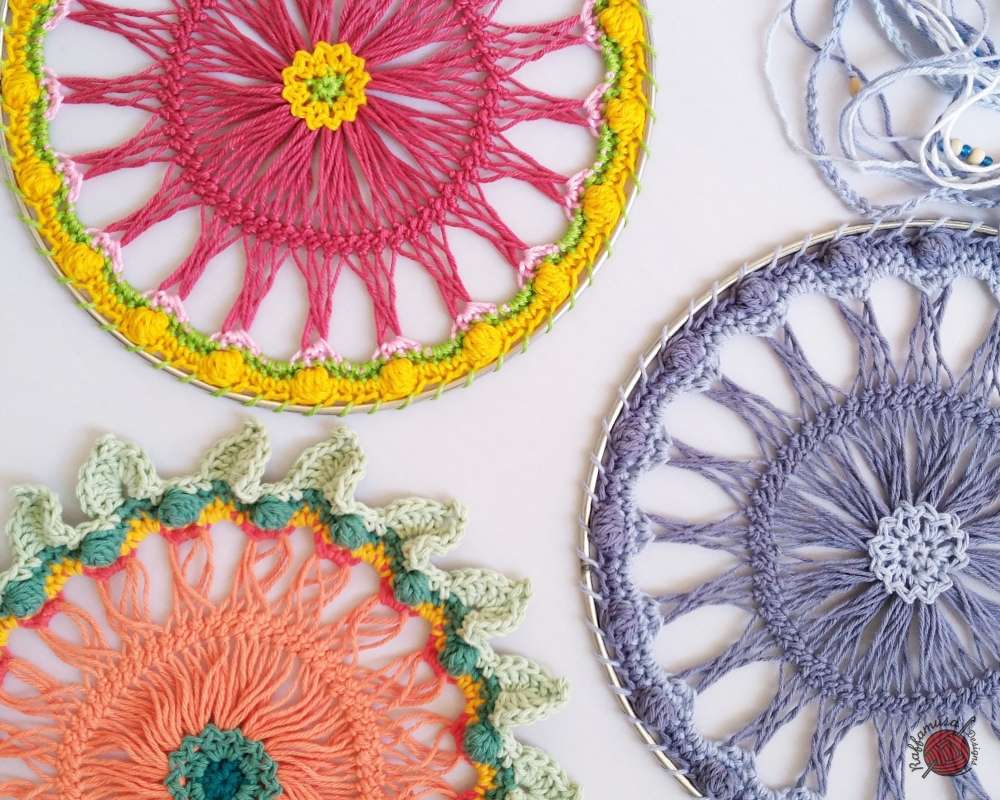 Isn't this such a fun use of hairpin lace? This dreamcatchers pattern is from Raffamusa Designs, and it's so fun! For more information or to purchase this pattern, head over here! If you'd like a hairpin lace video tutorial – I've got you covered here!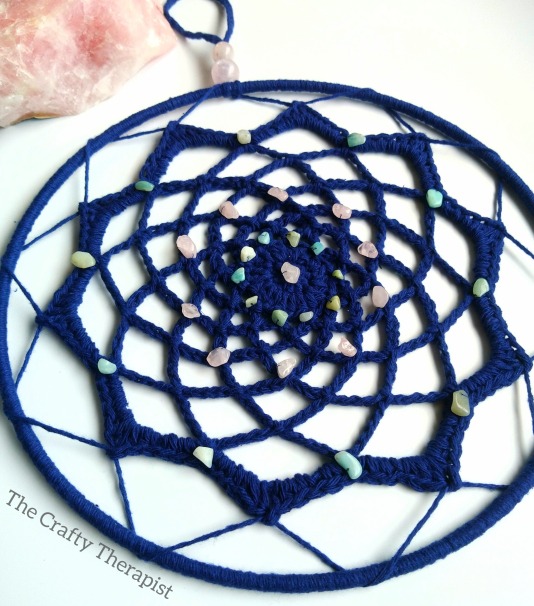 If hairpin lace isn't your thing, here's another dreamcatcher option for you from The Crafty Therapist, which combines crochet and crystals in this pretty design. This is a paid pattern you can get here!
I basically love everything that Christine over at Sweet Potato 3 designs, and this is no exception! This unique wall hanging makes a statement, my friends! You can purchase this pattern from Ravelry, Etsy, or Lovecrafts – for more info, go here!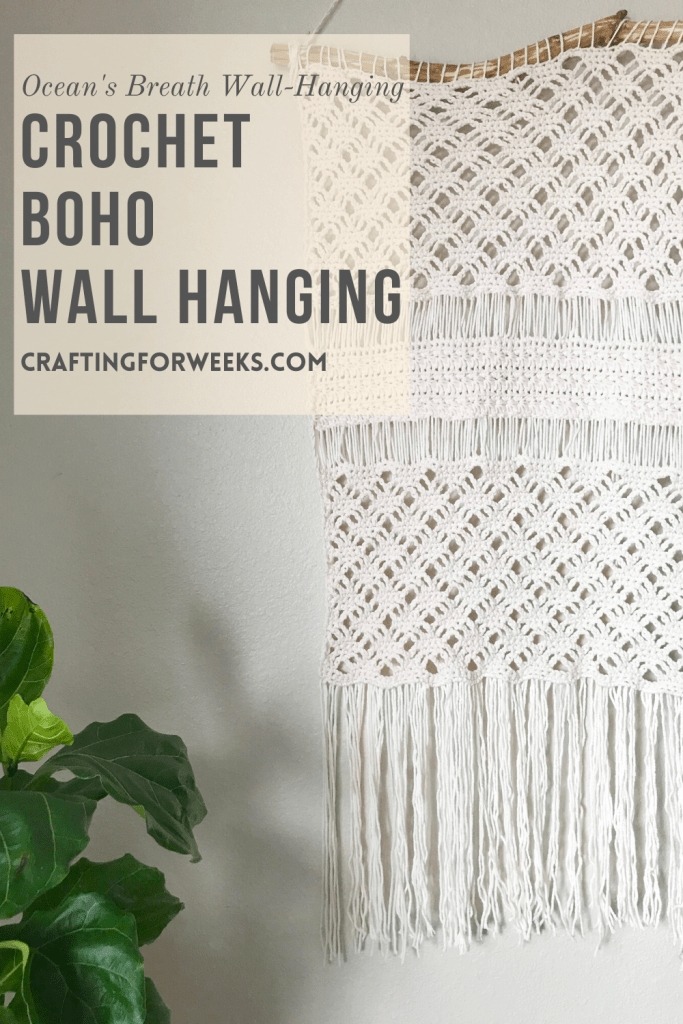 The Ocean's Breath Wall Hanging from Crafting for Weeks is just lovely! Plus – it's part of a set that includes a yoga bag, cardigan, and key fob. Check it out here!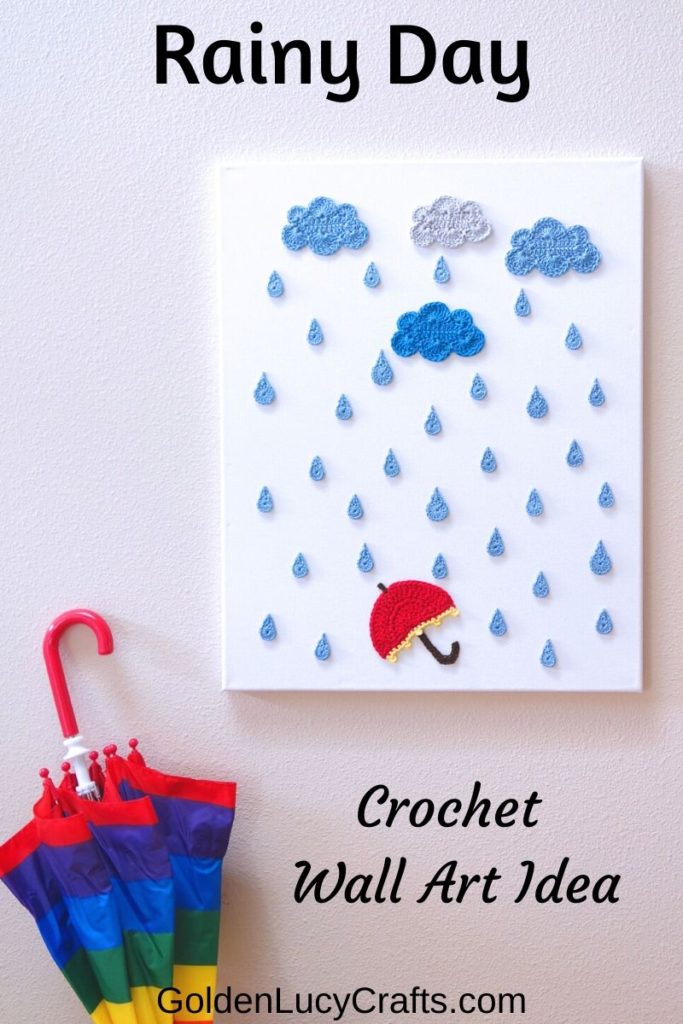 Isn't this the cutest stinkin' thing you've seen all day? This Rainy Day Wall Art from Golden Lucy Crafts would be great for nursery wall art! It's a free pattern, and a quick look around her website shows a bunch of cute crochet applique patterns, so even if you're not looking for this particular wall art, it's worth checking her out! Get more info about this pattern here!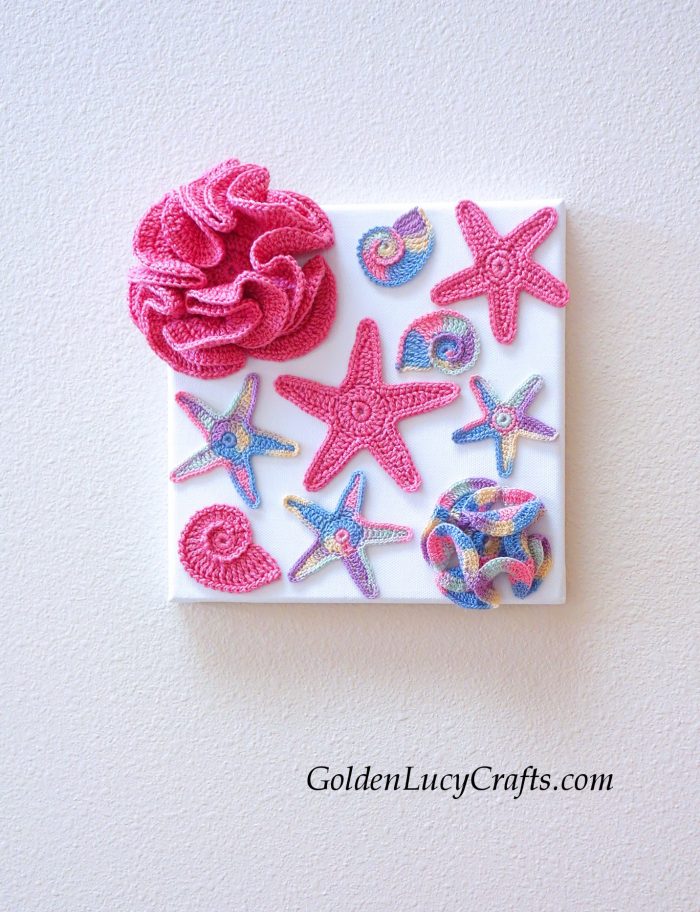 Just for fun, here's another one from Golden Lucy Crafts. I especially like the little nautilus shells. And those corals are like hyperbolic planes (yeah, occasional math nerd over here…)! Get the design here!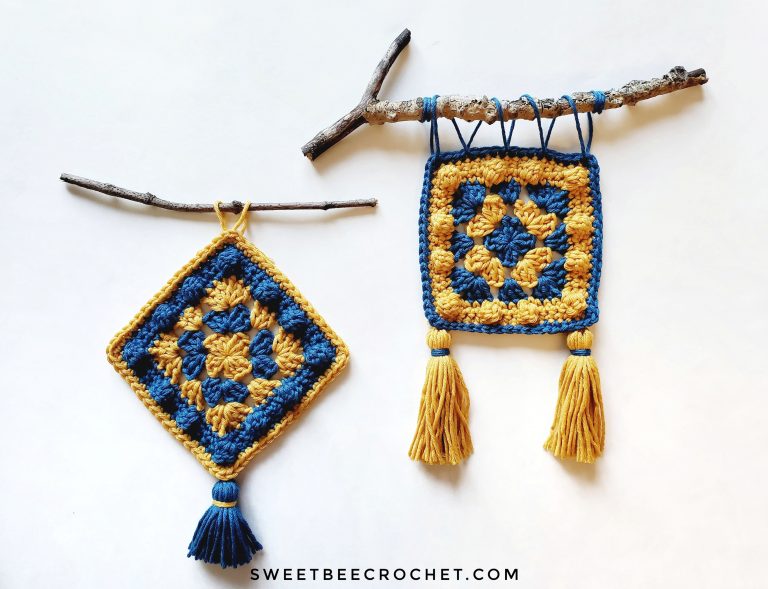 This fun take on granny squares turns them into unique wall hangings. Isn't it amazing what a little tassel can do? I love the rustic sticks as holders, as well! This is a free pattern you can get here.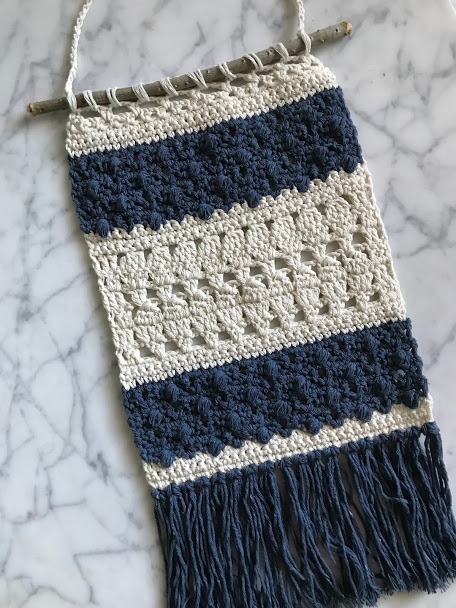 Just look at the texture! This wall hanging from Desert Blossom Crafts is available for free here!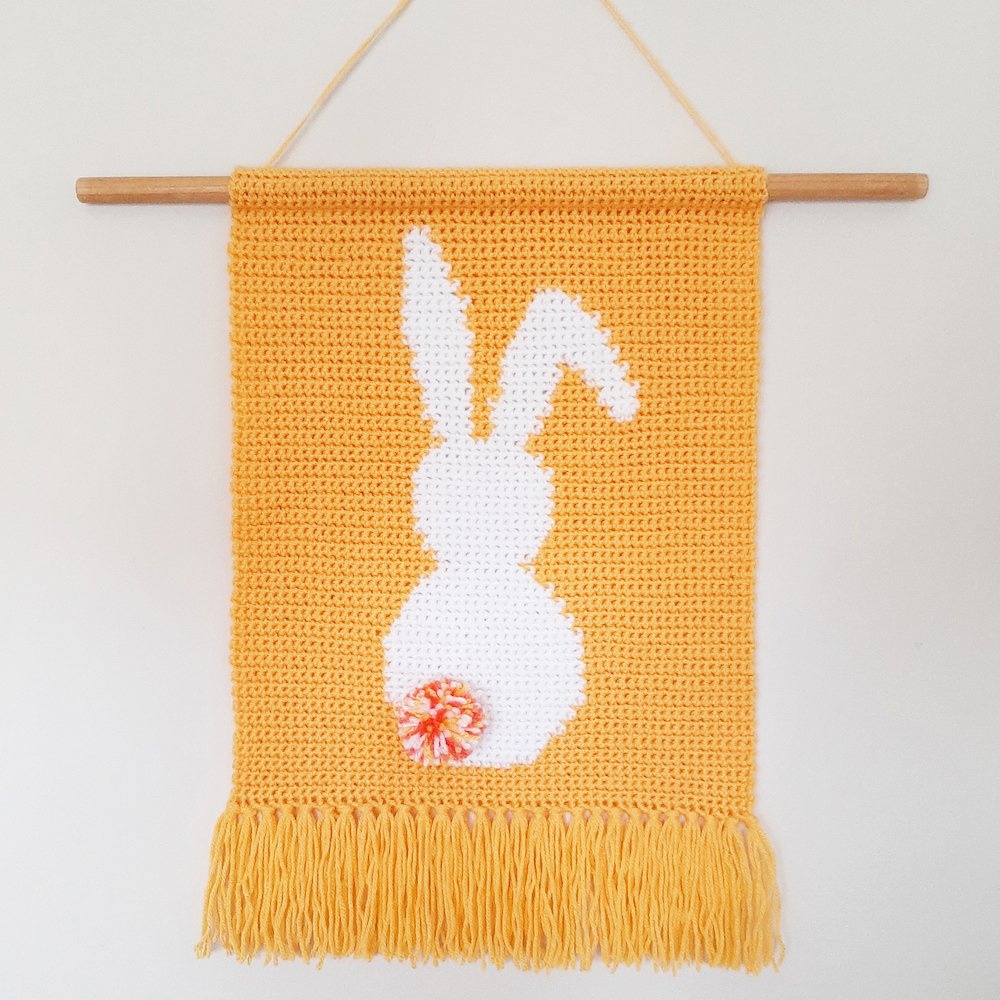 Confession: I don't really decorate for seasons or holidays, besides Christmas. But this cute bunny wall hanging from Ned and Mimi is calling to me. I may just have to make it for Easter/Spring this year. Isn't that little pompom tail adorable! This is a free pattern – get it here!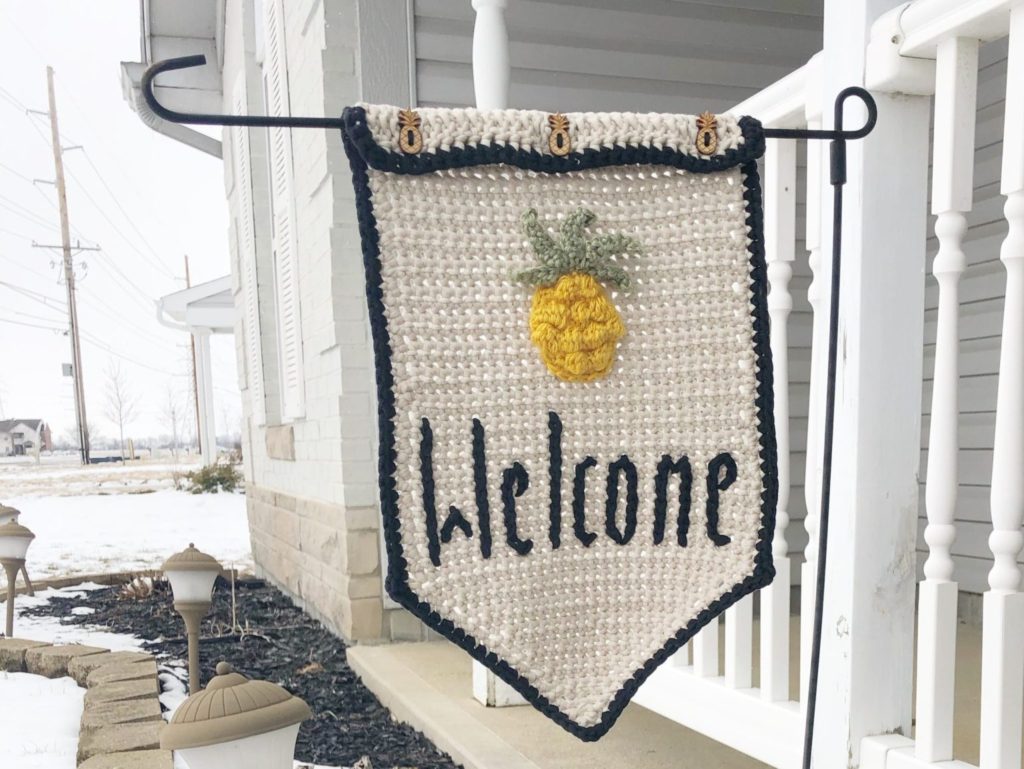 I'm going to put this one in with wall hangings even though it's technically a sign/flag. I love the cute little pineapple! you can get this free pattern from A Plush Pineapple here!
Crochet Home Decor Pillow Patterns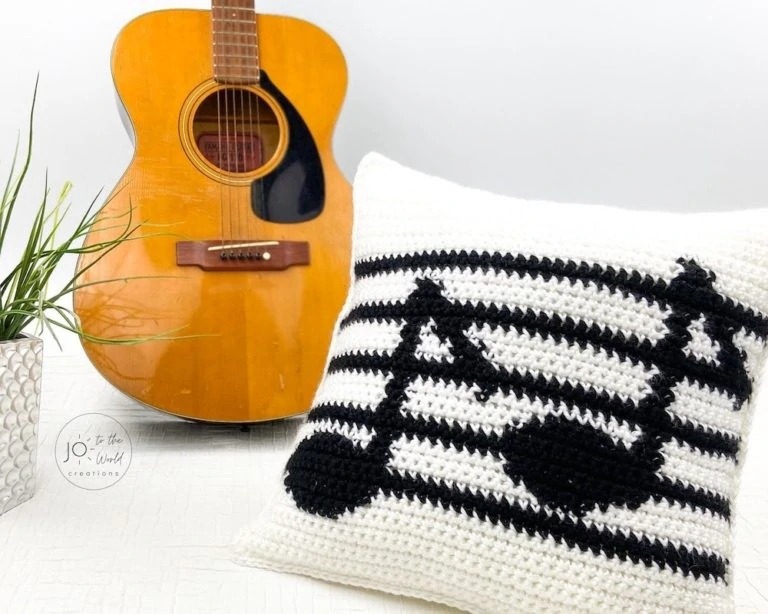 Perfect gift for the music lovers out there! This fun pillow is a free pattern from Jo to the World Creations. You can get it here!
One final offering from Blue Star Crochet for today – you all know I love interlocking crochet, right? Well, here's a simple interlocking crochet pillow cover for you! This one's a free pattern you can get here!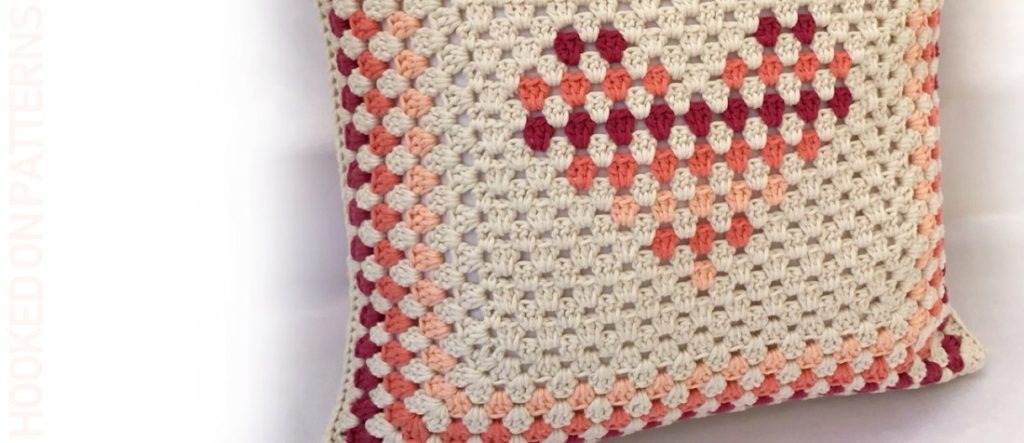 Another free design, this heart cushion cover is a play on traditional granny square. Get the free pattern from Hooked on Patterns here!
Crochet Baskets and Planters Patterns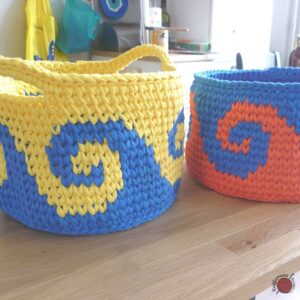 This cute baskets use tapestry crochet to create a sea wave shape. You can crochet the bottom or attach to a wooden basket base. This pattern is available for purchase, and you can get more information here from Raffamusa Designs!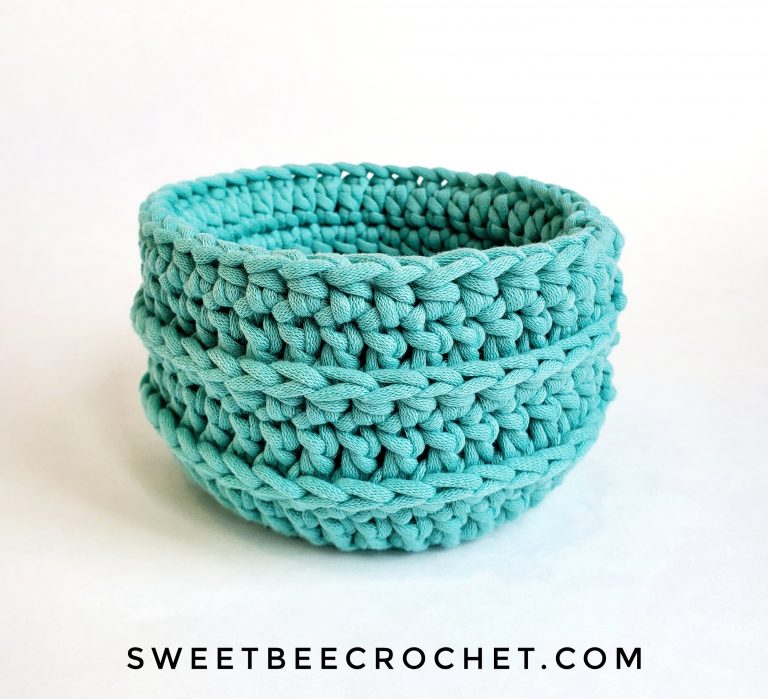 This lovely design is a free offering from Sweet Bee Crochet. I love the texture! You can get this pattern here.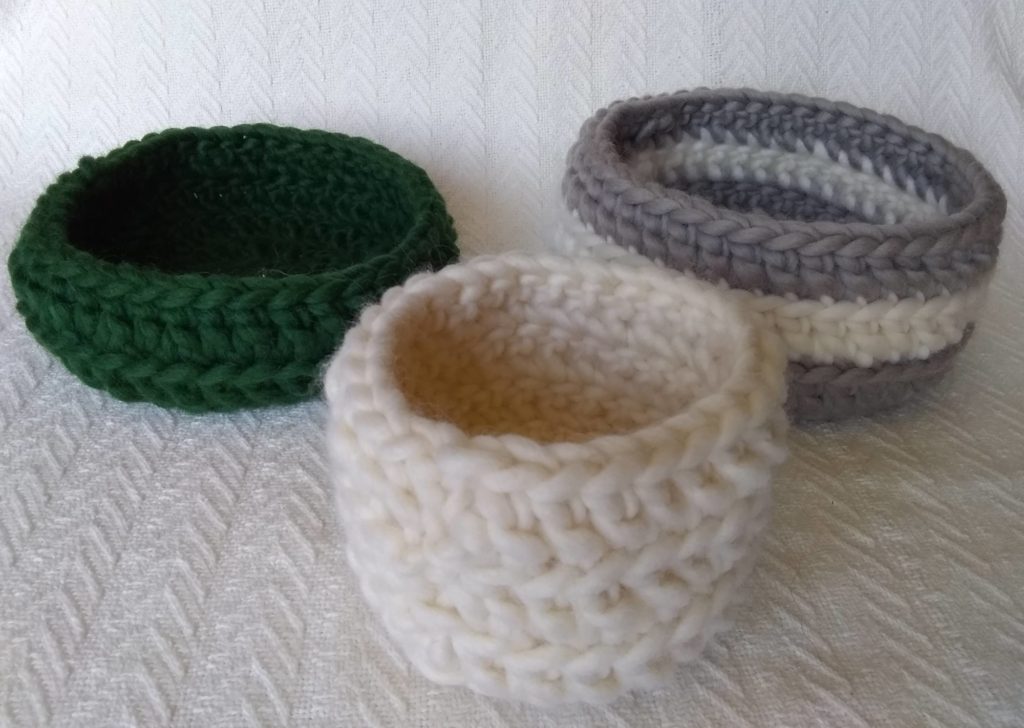 Of course, I'd be remiss if I didn't mention the quick crochet baskets pattern – these use WeCrochet's Tuff Puff yarn and work up so quickly! Go here for more info about this pattern!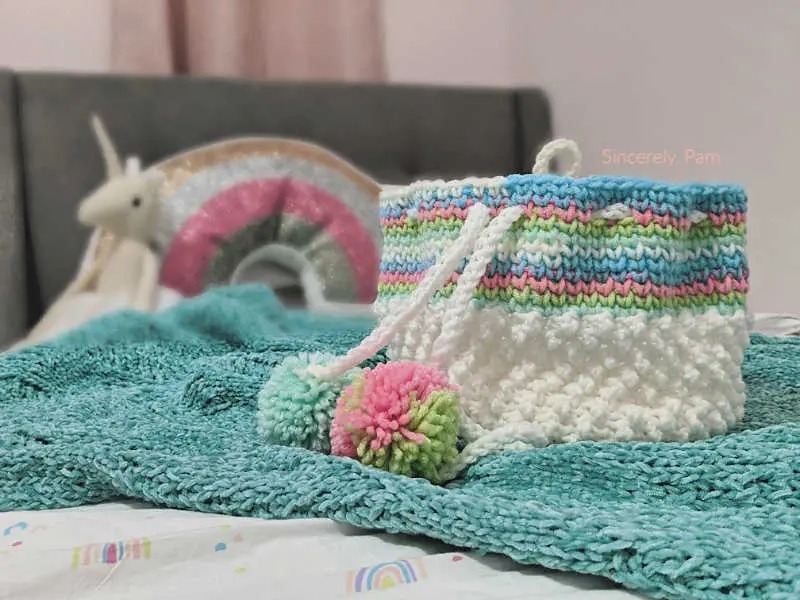 This Drawstring Basket Crochet Pattern from Sincerely Pam is available for free on her blog – get it here! Aren't the little pom strings adorable? You can see how to make an easy pompom here!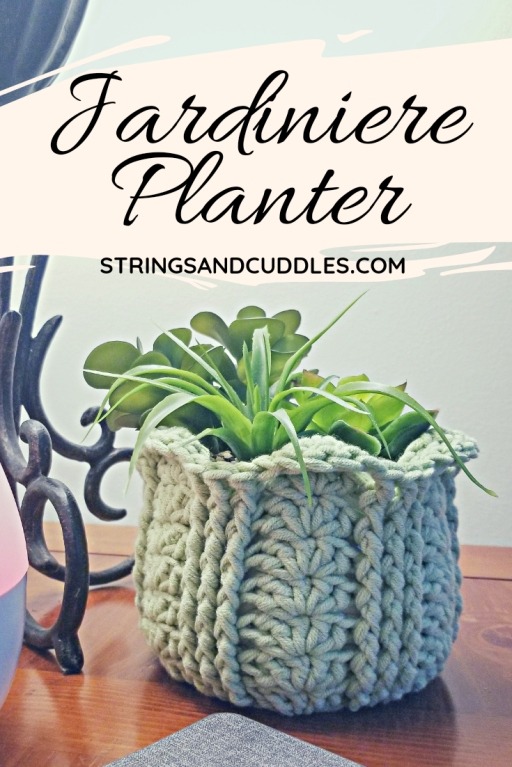 Going along with our baskets theme, this lovely little planter from Strings and Cuddles is available for free on their website. You can get it here!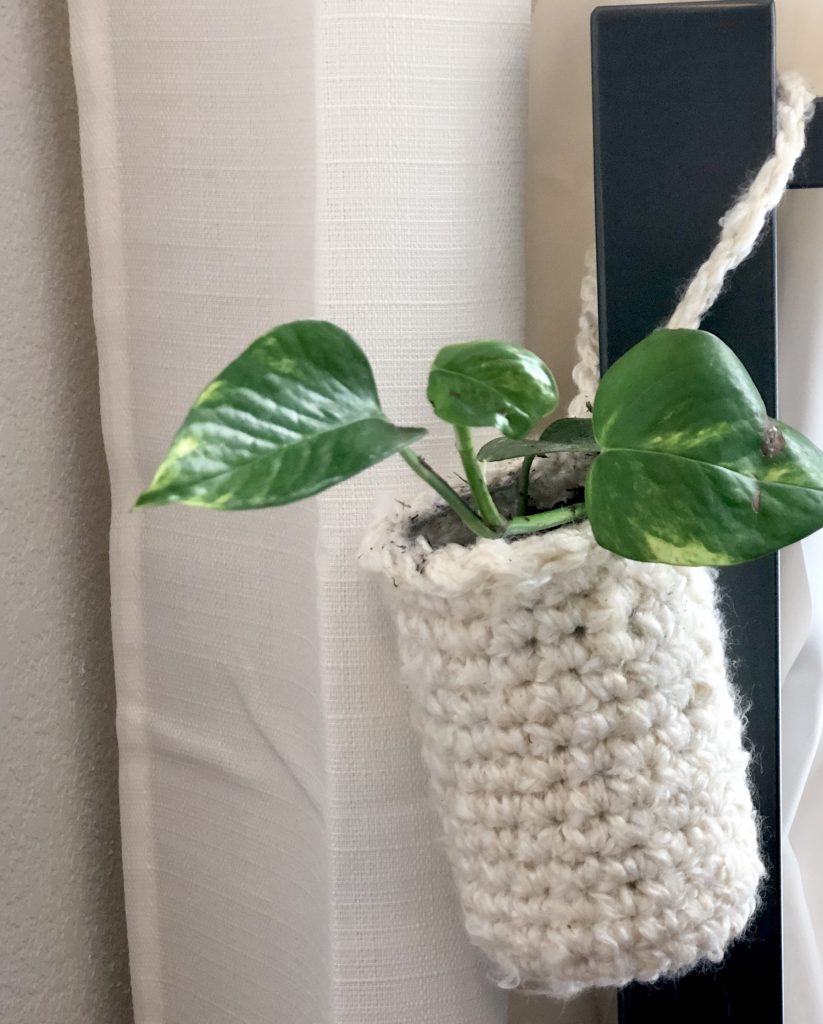 This Reuse, Recycle, Root pattern from Rebecca Velasquez includes a tutorial for making a planter out of an old plastic bottle. Plus, it's cute! Get the free pattern here!
Crochet Home Decor Patterns – Miscellaneous
Just because I say "miscellaneous", it doesn't mean these last few patterns aren't awesome!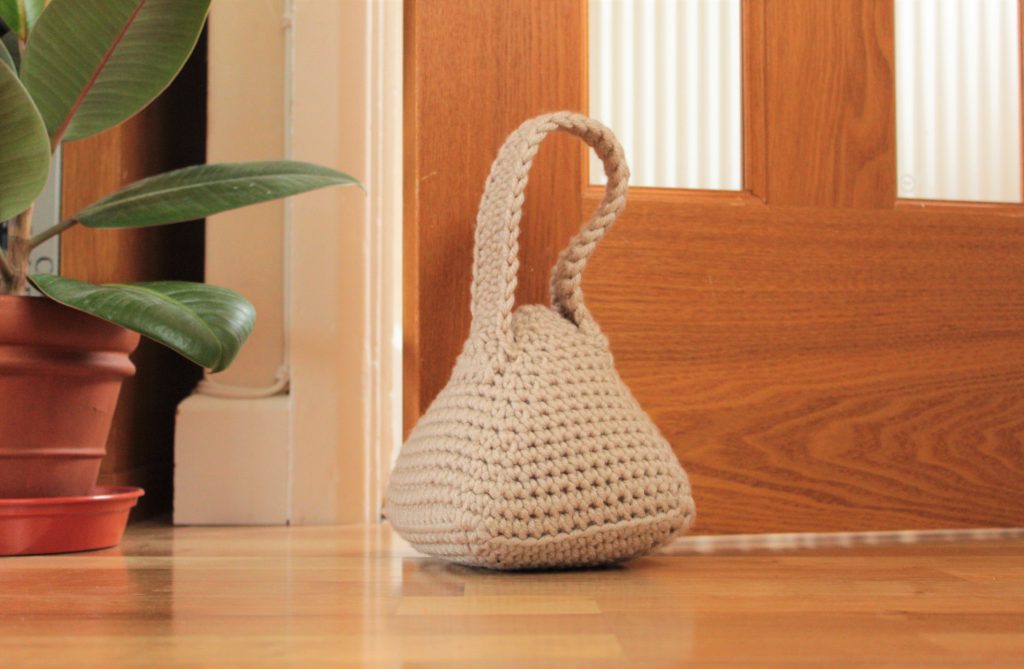 Here's another fun design from Blue Star Crochet. I just love this clever doorstop! It's a free pattern on her website, and she uses rocks to weigh down the doorstop. It's cute, it's functional, and hey, I'm less likely to damage my toe on this than a regular rock, right? You can get the pattern here!
Isn't this one so cool? You'll need to get a corded bulb to make this project, but I love the way the light plays through the lace. It's kind of like a candle cozy lantern. You can get the free pattern here from Strings and Cuddles!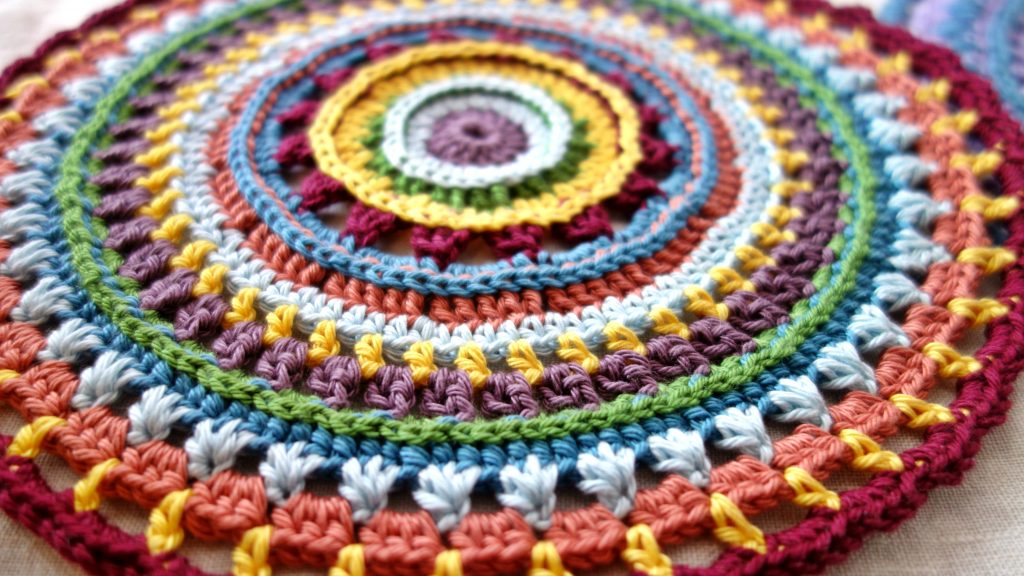 This colorful mandala would be a great scrap-buster! It's a free pattern from Made by Gootie. You can get the pattern here!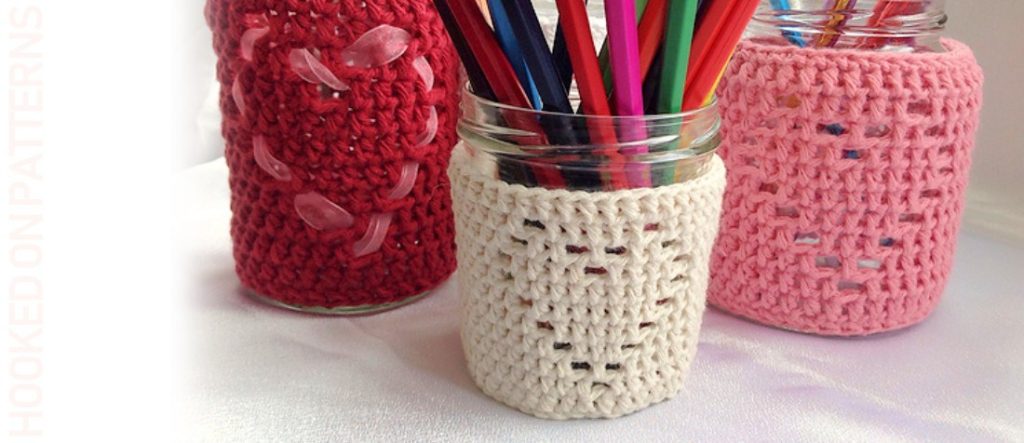 This heart jar cozy pattern is great for valentine's day and is available for free from Hooked on Patterns – get it here!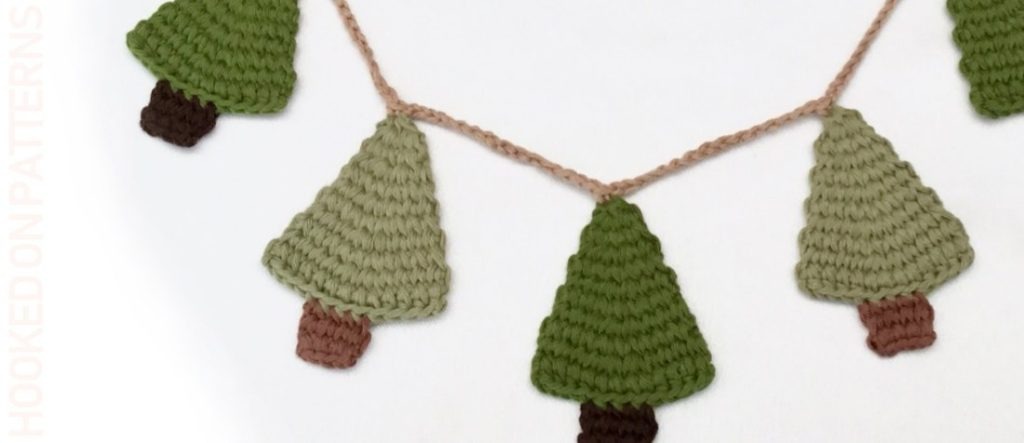 This free Christmas Tree Garland pattern from Hooked on Patterns is sure to get you in the holiday spirit! Get the pattern here!