Today I'm going to show you how to crochet puff stitch. This stitch is by far one of my favorite stitches. You can see it in action in the Puff Stitch Set. The texture is great, and it's not too difficult to do. It's also a foundational stitch for learning how to do the more complicated Jasmine Stitch, like in the Jasmine Stitch Ripple Blanket.
*Disclosure: Some of the links in this post are affiliate links, which means if you click on them and make a purchase I may, at no additional cost to you, earn a commission. Read full disclosure here.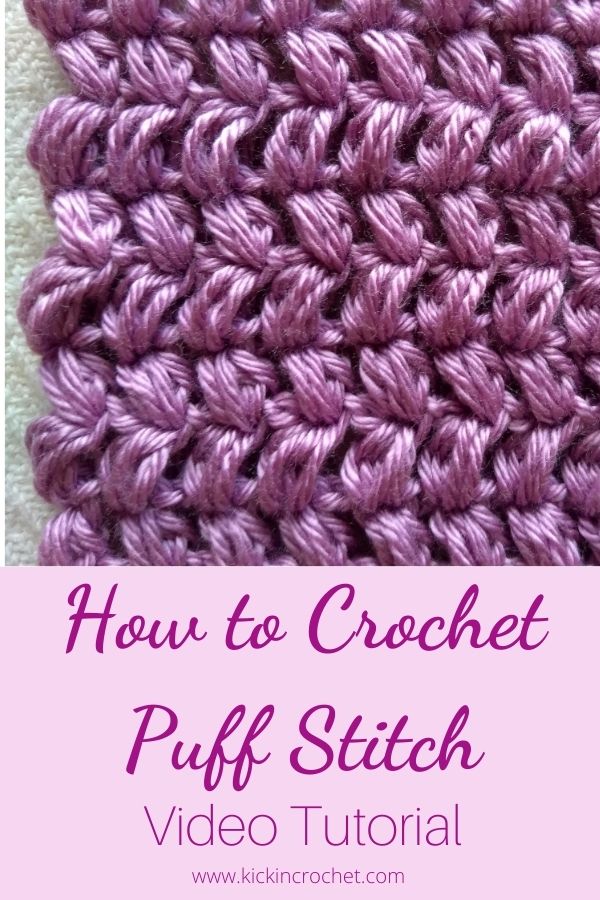 Supplies
If you're following along in the Learn to crochet series and you plan on joining your sample squares together at the end of the project, I recommend using the same yarns throughout. You're welcome to use whatever you'd like, but here's what I used:
Any worsted weight yarn – I used Caron Simply Soft
Size I crochet hook – I love these Odyssey hooks from Furls Crochet!
Yarn/Tapestry Needle for weaving in ends.
How to Crochet Puff Stitch Video Tutorial
How to Crochet Puff Stitch
Puff stitches can be worked into any type of other stitch, including chains and other puff stitches. If you're working just puff stitch across an entire row, you'll need to start with an odd number of chain stitches. If you know how many puff stitches you want, you'll double that number and subtract one to figure out your starting chain. So for five puffs, multiply five times two then subtract one (5×2=10, 10-1=9, so starting with chain 9 to have 5 puff stitches). The puff stitch will take up two chains, and the row will start and end with a puff, as in the video above.
To crochet the puff stitch, you need to start by pulling up a loop with your yarn – pull this loop up to whatever height you'll want your puff stitch to be. Now, yarn over and insert your hook in the last st of your chain (the same stitch your pulled up loop is coming out of), yo and pull a loop through the stitch. Pull this loop up to the same height as your first loop, then do this (yo, insert hook in same st, yo and pull up a loop) twice more. You should have a total of 7 loops on your hook at this point. Now yo and pull through all the loops on your hook. Then ch1 to close the puff.
If you're doing a bunch of puff stitches in a row, you won't have to pull up your first loop, because you'll be starting at the height of your previous puff stitch. You'll always have to pull up the height of your first loop to start a new row.
6″ Puff Stitch Crochet Square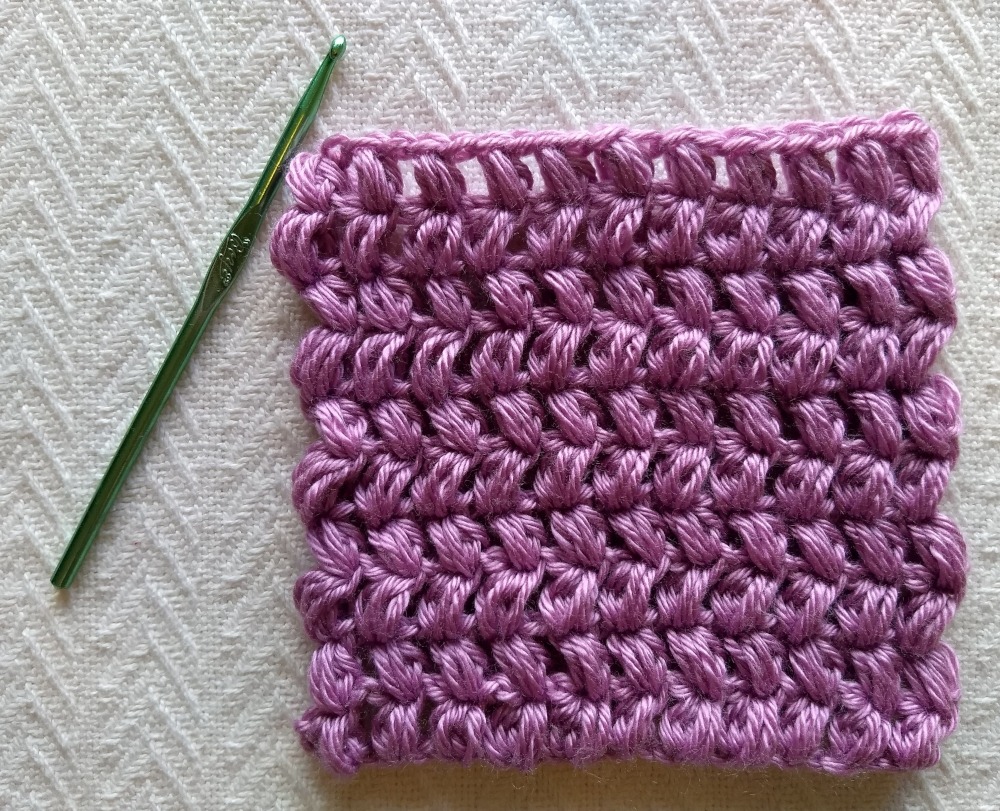 Ch 21
pull up loop, turn, (yo, insert hook in last ch st, pull up a loop) x3, yo, pull through all loops on hook, *ch1, sk next stitch, puff in next st, repeat from * across.
pull up loop, turn, (yo, insert hook in same st, pull up loop) x3, yo, pull through all loops, *ch1, sk next stitch, puff in next st, repeat from * across.
repeat previous row until you have 10 rows of puff stitches