Crochet blocking mats – there are so many options! How do you choose one that's right for you? I reviewed two popular blocking mat choices – Knit IQ and Knitters Pride (Mindful Collection), and have a clear winner. Even if you don't choose one of these specific mats, now that I've seen a few different sets, I've learned about some things to look for when buying a set. Let's go!
*Disclosure: Some of the links in this post are affiliate links, which means if you click on them and make a purchase I may, at no additional cost to you, earn a commission. Read full disclosure here.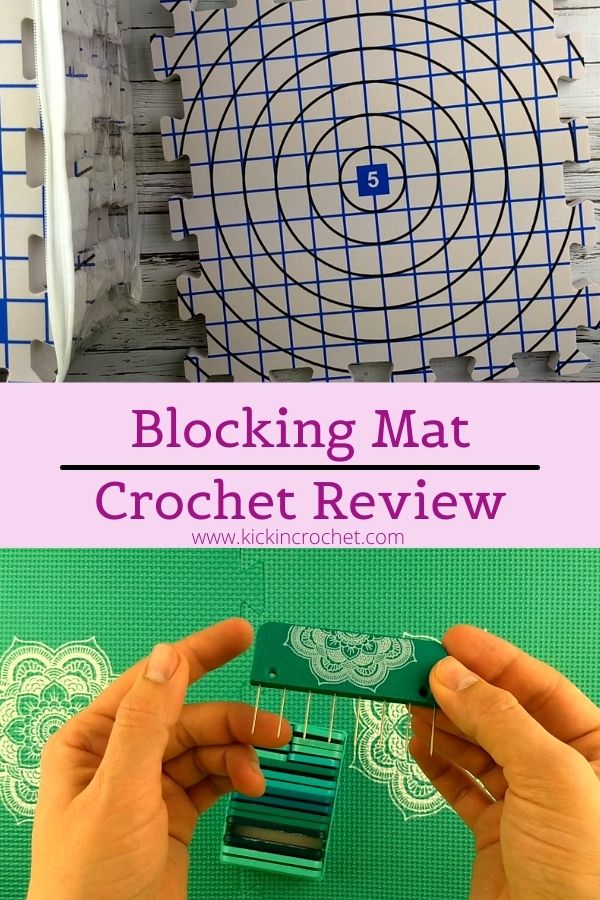 Crochet Blocking Mat Test
I tested out two different blocking mats. I've got a video showing these two mats, or scroll down for the review and comparison for each mat.
Mindful Collection by Knitter's Pride – Blocking Mats and Pins
The first set I tried was the Mindful Collection Blocking Mats by Knitter's Pride. These pretty mats are turquoise, with a lovely flower mandala design in the center. The set comes in a nice canvas cloth zip case and includes 9 mats. Actually, the canvas zip case even came inside a separate drawstring bag. I can't really figure out why it has an extra bag too, since there's no way I'm going to put the case back in the bag, but it's nice. The set just feels nice all around when you open it up!
Unfortunately, looks is about where the positives end for this set. Unless you're short on space, the thin-ness of these mats is kind of a let down. I worry that I will push pins too far into the mat and damage my table or floor underneath. I also purchased a set of Mindful Collection blocking pins, and the mats are not thick enough to prevent the pins from poking through. The pins themselves, however, I definitely love! They have the same flower mandala design as the mats and come in three tones of turquoise/teal. The set includes some pins that are about 3″ wide, and some that are half that size. I found that one set of blocking pins was enough to block a 9″ crochet square with ease.
Mindful Collection Blocking Mat Pros: Pretty set, nice zip case, lock together well.
Mindful Collection Blocking Mat Cons: Too thin/flimsy for my taste, no measuring guide
Knit IQ Blocking Mats
The Knit IQ blocking mats I tested were the ones specifically for crochet and lace. The mats also included a set of 100 T pins. Just like the Mindful mats, this set also included 9 squares. The two sets of mats are about as different as they could be! The only real similarities are that they're both foam, and they're the same length. The Knit IQ mats come in a plastic zip case – still okay, but definitely not as nice as the Mindful Collection case (and probably not as durable since plastic tends to get old and brittle, in my experience). And these ones don't have the pretty design and are plain white.
However, the functional benefits of these mats definitely outweigh the aesthetic negatives. Immediately you'll notice that these mats are about twice as thick as the others. You can insert the mindful blocking pins into these with no worries that you're going to scratch your table or floor. The T pins are long enough to poke all the way through the mat, but I didn't even come close to pushing them in that far. They still felt completely secure.
One cool feature of these mats is the line markings. They have square and circular 1″ markings throughout. The 9 squares are labeled so that you can easily put them together to form a large circle to block larger doilies or blanket squares, which is great for crochet! I did notice that the measuring marks were not exactly 1″ apart, but they were only off by a very small margin so I don't think it would be an issue, especially if you're using the same mat set for all squares in a blanket, for example.
The squares connect together smoothly. There were a few places where the measurement lines did not line up exactly at the connection points, but again, the misalignment was minimal, and I don't think it would be a substantial issue in practical use. You would definitely still have much more even blocking than if you had to eyeball the measurements! update – actually, they line up pretty well as long as you assemble the blocks in correct numerical order –
Pros: Thicker! Measuring grid in both square and round!
Cons: Plastic zip case, measurement lines have minor misalignments and are not exactly 1″ as advertised (but they are very close)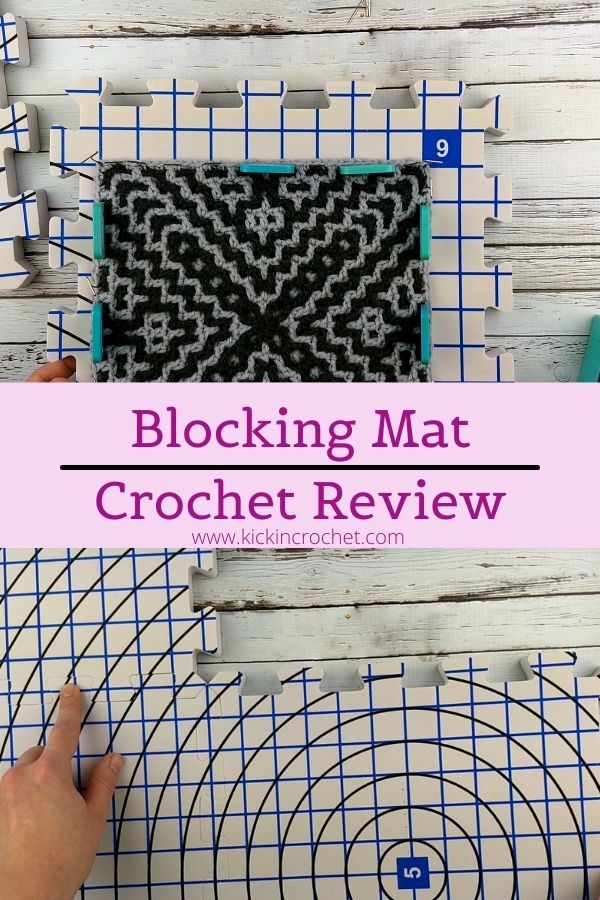 Overall Blocking Mat Recommendation
If I were going to buy blocking mats again, I would definitely pick up the Knit IQ set. The thickness and the measuring guidelines make this one a no brainer for me! I also like that the Crochet/Lace Knit IQ set is supposed to work with their other blocking mats, in case you want to extend the square grids but have their other mats. The Mindful Collection Blocking Pins were great, and I thought they worked perfectly with the Knit IQ mats. I would purchase those still, though I'm sure there are plenty of other brands of blocking pins that are comparable. I definitely preferred the blocking pin set to the T pins. They made blocking much faster and easier, for sure!
You, of course, don't have to buy either of these brands. If you're looking for mats though, I highly recommend getting a set that is on the thicker side. Plus, definitely go for the ones with measurements marked on! I blocked a 9″ square on the mindful mats, and it was a little beastly to try to figure out if I was getting the measurements right and making sure I had square corners on my block. If your mats have those two features, I would say they are probably fine!
I hope you enjoyed this blocking mat review! If you liked this post, you may also like the Furls Yarn Review or the Berroco Yarn Tasting Review.