The Oliver Fingerless Gloves pattern is made in men's sizes small, medium, and large. The gloves feature a classic ribbed cuff and colorwork at the finger edge. Comfy, cozy – they make great gifts for people who need to keep their fingers free for typing, texting, working, etc.
*Disclosure: Some of the links in this post are affiliate links, which means if you click on them and make a purchase I may, at no additional cost to you, earn a commission. Read full disclosure here.
About the Oliver Fingerless Gloves
At the beginning of the year I made a goal to make more patterns for men. These gloves and the Autumn Chill sweater certainly fit that bill (and I've got a few more planned for next year!). I love the simple colorwork and the classic ribbed cuff on these fingerless gloves. You'll only need to know how to do a few stitches, including front loop only and back loop only single crochet.
One day only, Thursday November 25th, you can pick up a free copy of these gloves thanks to the Just for Him event hosted by Sunflower Cottage Crochet. You can get all the details, including the coupon code, from the Sunflower Cottage Crochet Website Here! The coupon is good at Ravelry for a free PDF of this pattern, just in time for Christmas makes!
You can also purchase a bundle of all of the patterns included in the Just for Men event for only 8 pounds (Just over $10 US). The Bundle includes all 14 event patterns plus 2 bonus patterns!
The pattern is available as an ad-free PDF from Etsy or Ravelry.
Materials
This is the first time I've used the Twill yarn, and I have to say I really enjoyed it! It may easily become one of my favorite yarns. It has great texture and stitch definition and is super easy to work with. I did notice that the Heather yarn is fuzzier than the non-heathered, but I liked them both!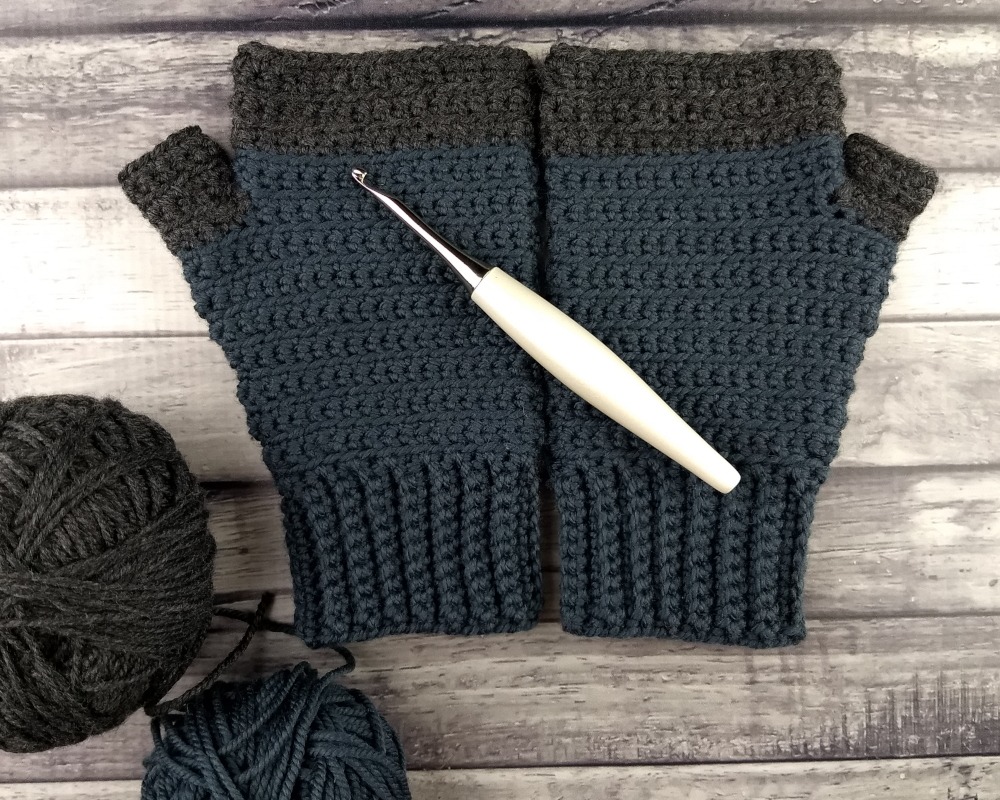 Sizing
Sizes are based on craft yarn council guidelines and are measured around the four finger knuckles of the hand.
Men's Small: 8″
Men's Medium: 8.5″
Men's Large: 9″
A Great Gift
These gloves are soft, warm, and comfortable. They would make a great gift for the man in your life (or anyone with larger hands). If you use a superwash wool (like I did), cotton, or acrylic, they will be washable and easy to care for. When I had my husband try them on for size, he wanted to keep wearing them while working on his computer!