The Men's Thermal Fingerless Gloves is one of the first crochet patterns I ever designed, way back in 2015, and it was due for an update! The original pattern only featured one size – now you've got men's small, medium, and large! I also changed the finger hole instructions to make them easier to understand, and added a video tutorial. The pattern is available for purchase on Etsy, Ravelry, and Lovecrafts – enjoy!
*Disclosure: Some of the links in this post are affiliate links, which means if you click on them and make a purchase I may, at no additional cost to you, earn a commission. Read full disclosure here.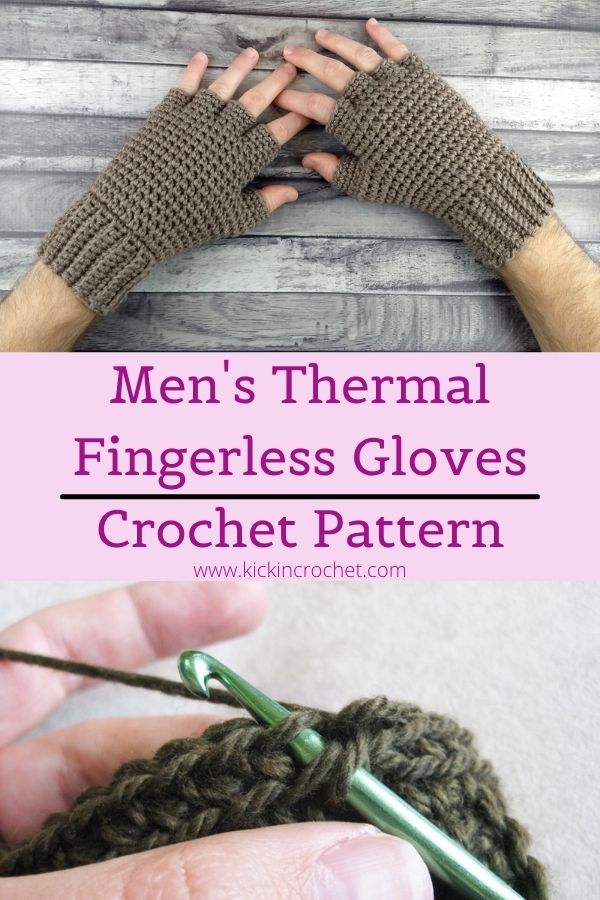 About the Men's Thermal Fingerless Gloves
Several of my early designs were fingerless gloves – they're fun, quick, and relatively easy! I really wanted to come up with a design geared for men, but so often, crochet comes out looking granny-like (not that there's anything wrong with grannies), or just too feminine for some men. When I ran across the thermal stitch, I knew I had found my answer! This stitch is warm, and therefore functional. It's thick, so it won't leave gaps or holes, and it looks, well, a little more "manly" than many crochet stitches.
Though I often like designing fingerless gloves with one opening for all four fingers, I knew these gloves needed individual finger holes – again, it just seemed more "manly" to me! The original instructions were a little more convoluted than they needed to be, so when I redesigned the gloves, I completely re-did the finger hole instructions. They are so quick and easy now! I also filmed a video tutorial showing how to make the finger holes – you can access it below!
These gloves are available for purchase from Ravelry, Etsy, and Lovecrafts (though you're welcome to try to have a go on your own and just use the finger tutorial I linked below).
Materials
Sizing
These gloves are sized based on Craft Yarn Council Guidelines. To find out your size, measure around the four finger knuckles of your hand with your hand lying flat.
Small – 8″
Medium – 8.5″
Large – 9″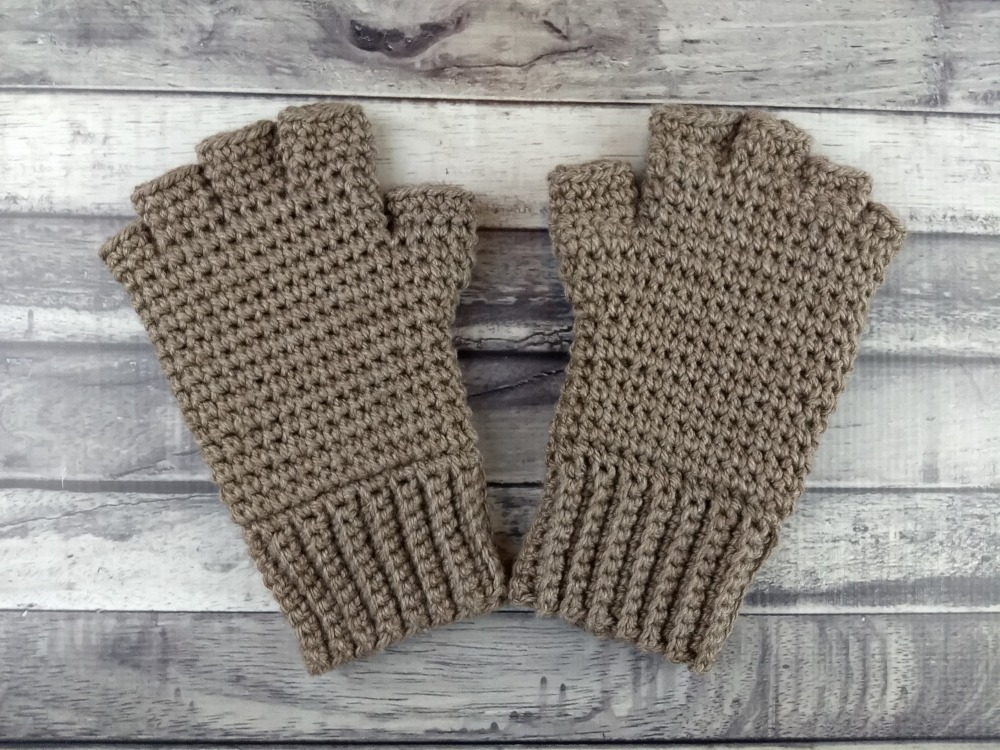 Making Finger Holes Video Tutorial
Glove Construction
These gloves are worked bottom up. You'll start with the ribbing. Then you'll continue working in joined, turned rounds. The seam will be on the palm side so that it's not as visible while the gloves are being worn. You'll continue up the glove, dividing for the thumb, and then the fingers as you go. Finally, you'll finish by extending each finger until you reach your desired finger length.