The Lucy crochet wall hanging pattern is a quick make for a large lace masterpiece to add to your home decor. It's made to fit a 28″ floral wreath hoop (or you can use a small hula hoop the same size). The pattern includes full video tutorial, in progress photos, full written pattern, and partial crochet charts.
*Disclosure: Some of the links in this post are affiliate links, which means if you click on them and make a purchase I may, at no additional cost to you, earn a commission. Read full disclosure here.
This doily crochet wall hanging was designed for my local yarn shop, A Little Knitty, for use during the PNW yarn crawl this year. She wanted something a little boho-ish, and thankfully we both loved the idea of a large wall hanging.
This beauty was a super fun project to make! It features pineapple variations for the center of the circle, then branches out into a loose mesh lace. Finally, it finishes up with some jasmine puff stitches. If you've struggled with jasmine puffs before, they will be good friends by the end of this project!
There is a full video tutorial for this pattern (see below), and the printed pattern with charts is available for purchase from either Ravelry or Etsy. Enjoy!
Materials
1 skein fingering weight yarn, approximately 400y (I used wild Star Fibers supernova sock in color "Dear Mama", 437y/100g)
28″ metal hoop – I purchased mine from Amazon – you can search "floral hoop", or there are sometimes small hula hoops an appropriate size
Tapestry needle to weave in ends
Sizing
The finished pattern is made to fit a 28″ inch hoop. I have included a few simple modifications to adjust for slight variations in size. I've also included a few guides in the first few rounds so you can know if you are on track for sizing. The project should measure about 3.25″ after round 4, 4.75″ after round 6, and 12″ after round 17.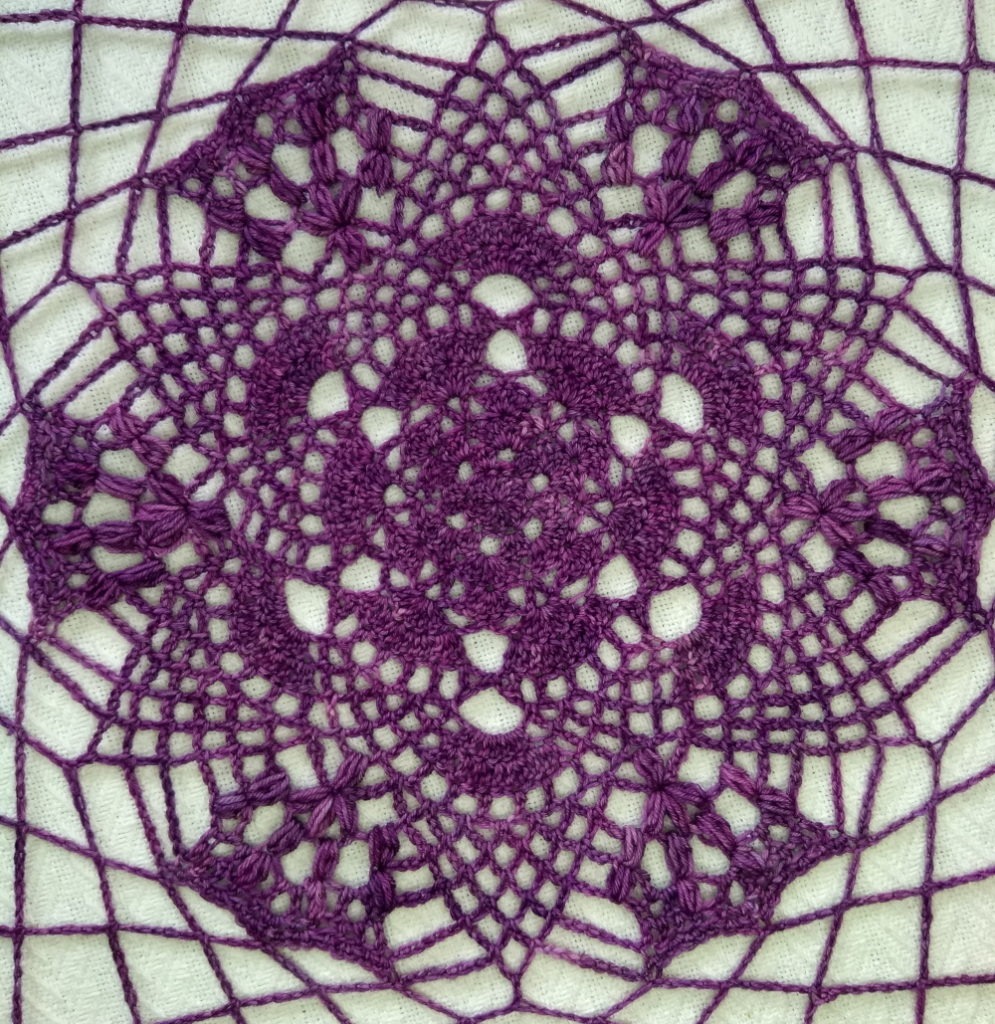 Lucy Crochet Wall Hanging Complete Video Tutorial
Doily? Mandala? Dream Catcher?
Some people would call this pattern a mandala or a dream catcher. Though there are certainly similarities, I prefer to simply call it a doily wall hanging. Why, you might ask? The answer is simply meaning. This pattern has no particular spiritual or religious significance – it's just a pretty decoration!
A mandala, on the other hand, does hold spiritual or religious – or at the very least meditative – significance in various cultures. The same is true for dream catchers, which are important cultural symbols in several native American tribal traditions. Out of respect for these cultures, I chose not to use these terms for this pattern.
I encourage you to give this pattern a try. It is definitely a show stopper and creates such a fun focal point for your home! I definitely have a few more wall hanging patterns in mind. Ever since I dropped Lucy off at my yarn shop, my wall seems so empty – gotta fill it up!