Add some geometric fun to your home with the Asymmetric Arrows Set – including crochet patterns for a wall hanging, mug rugs, and a hot pad! I love the wonky arrows in these designs. They aren't afraid to take their own path, and you shouldn't be either. Though you may have to fight some perfectionist tendencies to allow these beauties into your home, they're sure to make a statement. Plus – Fringe!
*Disclosure: Some of the links in this post are affiliate links, which means if you click on them and make a purchase I may, at no additional cost to you, earn a commission. Read full disclosure here.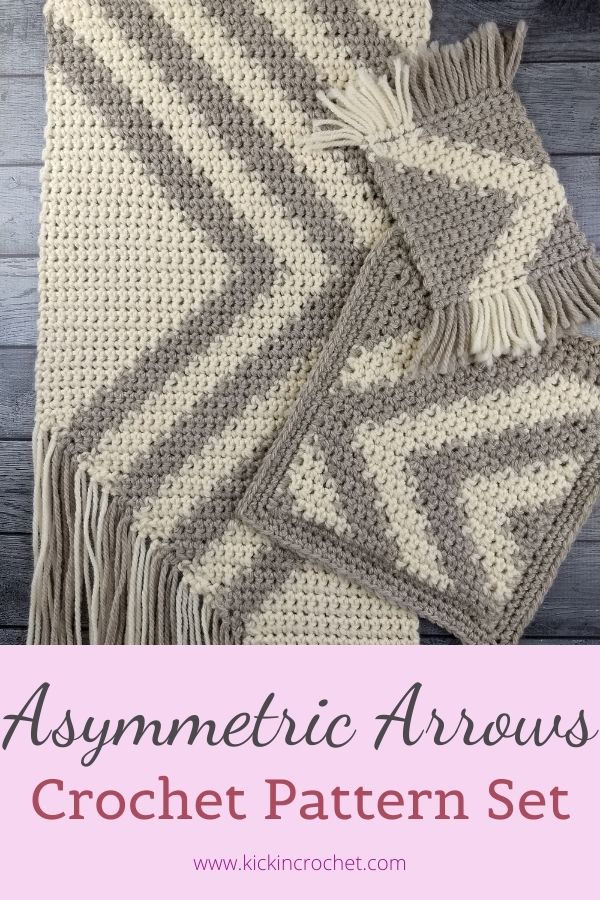 About the Asymmetric Arrows Set
I was watching Frozen with my kids one day, and Anna's hair kind of stuck in my brain. You know how she has that one stripe of white hair? The fringe on these designs totally reminds me of that white stripe. Or maybe Rogue from X-men is more your thing. Either way, that hair stripe was total fringe-spiration (get it, fringe inspiration?). Originally, this was just going to be a wall hanging, but I'm so glad I went ahead and added the bonus hot pad and mug rug. That little mug rug is my favorite! This design went through a few iterations before I landed on this final design that I love. I hope you love it too!
Materials
Crochet Colorwork Techniques Video
Worried about the colorwork? For the wall hanging and the hot pad, I used stranded/fair isle colorwork, and for the mug rug I used intarsia crochet. However, you can substitute tapestry crochet or intarsia for all three designs if you would like (but you can't do stranded/fair isle for the mug rug). In the video below, I walk you through the differences in the main colorwork techniques and show you how to do each type. You can do this!
Pattern Available on Ravelry and Etsy!
You can pick up a PDF copy of this pattern set from Ravelry or Etsy. The PDF includes written instructions and charts for each of the three designs. You get the Wall Hanging, Hot Pad, and Mug Rug all in one purchase.